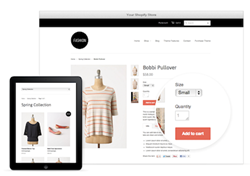 Anyone that is looking for the best e-commerce platform needs to see the difference between Volusion and Shopify.
Chicago, IL (PRWEB) February 06, 2014
Volusion and Shopify, two of the most popular e-commerce platforms for businesses in a variety of industries and various sizes have caught the attention of eComReviewed.com's Jordan Richards, prompting and investigative review.
"Volusion and Shopify both have very similar offerings for e-commerce businesses who want a great-looking website as well as premier shopping cart functionality," reports Richards. "Both websites offer businesses hundreds of different professional themes to fit their industry, as well as SEO tools and flexible pricing options so businesses can make a choice that makes sense for their budget. However we believe Shopify provides the best options for businesses."
Learn more about Volusion and the trial they offer here.
While both Volusion and Shopify have different pricing levels that e-commerce businesses can choose from, Volusion offers more options, with five different pricing tiers vs. the three that Shopify offers. Volusion pricing tiers range from $15-$195 per month, while Shopify pricing tiers range from $14-$179 per month. Both websites offer unlimited hosting as well as secure shopping cart and checkout functionality. Both platforms are currently offering a trial version available to merchants who wish to test each platform without any risk for up to 21 days.
To help merchants keep up with the ever-increasing social market, both Volusion and Shopify provide social media tools, email marketing tools, and resources for mobile integration. Volusion is known as the original e-commerce platform, starting in 1999, while Shopify was established several years later in 2005.
Ecomreviewed.com has negotiated a private deal with Shopify for business owners that allows them to get a 21 day trial and 10% off on their order.
Go here to get the special 21 day trail and 10% off.
"Both Volusion and Shopify provide great tools for e-commerce websites to help them succeed, but there are some key areas where Shopify provides a few more valuable benefits, particularly with backend functionality and blogging capabilities," says Richards. "Shopify is also much more versatile in payment processing and is more affordable for online merchants with processing fees."
"While Volusion offers more pricing flexibility in terms of monthly fees, Shopify shows to provide a few more valuable options in other areas including integrations. Overall, it's important for merchants to test the trial version of each site to determine which platform will best fit the needs of their business, but we highly recommend using Shopify."
Those wishing to start a trial for Volusion or Shopify, or for more information, click here.
To access a comprehensive Volusion vs. Shopify review, visit http://www.ecomreviewed.com/shopify/.