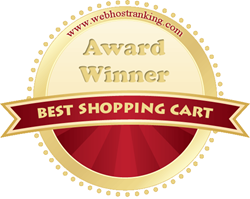 After months of testing, trials, and reviews we were not able to find another service that could outperform Volusion.
San Diego, CA (PRWEB) July 25, 2013
WebHostRanking.com takes the time to review the top web hosting services and other Internet service providers in an effort to provide unbiased reviews and detailed information to visitors who are in search of the right services for their online business needs. Because of the shift towards ecommerce, web stores, and online shopping in general, businesses are feeling the pressure to offer their products and services online. For many business owners, this is a daunting task because they don't have the knowledge and skills required to create an online store. Fortunately, shopping cart software simplifies the process, making it possible for virtually anyone to create a web store.
After thorough review, and taking time to compare hosts and the tools and features each offers, the Web Host Ranking staff has chosen Volusion as the award winner for their 2013 Best Shopping Cart award. Jeff Raybould, Web Host Ranking co-founder, had this to say, "After months of testing, trials, and reviews, we were not able to find another service that could outperform Volusion on price, features, ease-of-use, and support." Each of which is an essential part of a successful online store. "Not only were we pleased with what we found, but every Volusion customer we talked to shared similar sentiments," Raybould continued. Some hosts provide shopping cart software, like HostMonster with a couple of popular shopping cart options, but none of them offer the kind of features and support that Volusion provides. Brick and mortar businesses are all different, they offer different products, set up unique displays, and have an image that sets them apart from other businesses offering similar products and services; online stores strive for this same unique identity. Volusion not only makes that possible, they make it easy.
A Volusion review shows that customers have more than 120 free templates to choose from that provide a professional, distinctive look. Users can then upload product images, descriptions, and variations that show vivid details of the products they are selling. Simple shopping cart options make it easy for customers to add an item to the cart and then continue shopping, without ever leaving the product page. In addition, Volusion provides all the marketing and social media tools to help the webmaster get the site listed in the top search engine results and on popular social sites like Twitter and Facebook. Furthermore, each business has the option for a mobile store, making it easy for customers to shop and buy items from a tablet, cell phone, or other hand held device.
"When it comes to customer service, none of the competition came close to the outstanding service we encountered at Volusion," Raybould stated. The Volusion team knows what it takes for a business to be successful and they are dedicated to providing help and support to every user that needs it. Support is available 24 hours a day 7 days a week by phone, chat, or email. Pricing starts as low as $15 per month and Volusion offers a 14 day free trial. Customers can have the store set up and running before ever paying a penny. Visit Volusion to view the available plans and compare the features included in each.
About WebHostRanking.com
WebHostRanking.com is a website that reviews the best web hosting providers and related online service provides. Visitors will find everything from web hosting coupons to detailed "how-to" articles. With years of experience in Internet business, the team at Web Host Ranking is able to provide useful information that makes it easy for anyone to create a professional web presence.