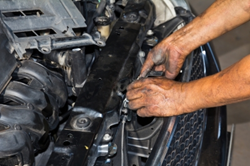 The Volvo used engines that are now in stock are direct fits inside of the SE and GLT trim models of the S70 motor vehicles
Sacramento, CA (PRWEB) April 28, 2015
The ownership by Ford in the Volvo automobile company helped produce the S60 and S70 vehicles in the late 1990s. The Powertrain Guys company is now including Volvo S70 2.5L engines in used condition for direct sale to the public in its sellable inventory this year at http://powertrainguys.com/used-volvo-s70-2-5-engine.
The I5 versions that are now available to buy were produced between the 1997 and 2000 year. Consumers who take an interest in buying one of the units now supplied will receive the FWD editions. The PTG company is supplying the 2.5 in turbo and standard gasoline versions that can be shipped nationwide in 2015.
"The Volvo used engines that are now in stock are direct fits inside of the SE and GLT trim models of the S70 motor vehicles," said one PowertrainGuys.com rep.
The listed inventory of Ford-Volvo company motors at the Powertrain Guys website will continue to be supported by a revised warranty plan this year. All direct shipments that are arranged offline or through the ordering portal on the web will be eligible for the expanded coverage policies.
"Volvo is one of the car brands that we now support for replacement motor blocks, and we will continue to update our listed units on sale on our website," the rep included.
The Powertrain Guys company is now accepting requests for quotations of its used motor blocks in foreign or domestic builds this year by phone. A customer service number at 1-866-320-1065 has been established to handle the volume of requests for sale pricing and information about product warranties in the U.S.
About PowertrainGuys.com
The PowertrainGuys.com company leads the secondary auto parts market as a top motor and transmission seller on the Internet. The company supports sales and price quotations using its active website. The PowertrainGuys.com company helps introduce price markdowns, sales incentives and warranty plans to consumers who buy used condition powertrain accessories.