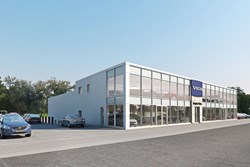 The state-of-the-art building will not only be larger, more efficient and more convenient for their customers, but will also be one of the largest Volvo facilities in the USA.
Summit, NJ (PRWEB) November 21, 2013
In announcing the new facility, Smythe Volvo President, Kevin Flanagan said it is a tribute to their loyal family of customers; their hard-working, dedicated employees; and, above all, his father, Sean, the founder of the dealership.
Sean T. Flanagan's is a classic American success story, which began in his native Ireland, where he started as an apprentice auto mechanic at the age of 14. Young Sean displayed real talent and became a full-fledged mechanic at 18.
By the time he was 23, Sean Flanagan was ready to take his now advanced abilities to a larger stage, and sold everything he owned to buy a steam-ship ticket to the United States.
Landing in New Jersey, Sean found work as a journeyman troubleshooter for fledgling imported car dealerships. With his skills and experience, Sean enjoyed almost instant success. He was able to fix the more difficult problems that baffled the dealership mechanics, because, in Ireland, every car he worked on was a "foreign car."
Sean Flanagan is something of a Renaissance man, who met his wife, Marjorie, when they both acted in classic theater in Dublin, doing Shakespeare, among others. Three months before he left for the USA, Sean proposed. So, in addition to working as an auto mechanic in the States, Sean worked two other jobs to earn enough money to bring Marjorie over.
Sean's talent and work ethic earned him recognition from Volvo Corp. management, who assured him of a franchise if he could find a suitable building and location.
At this time, Sean Flanagan met Dave Smythe, who was a dealer for Rambler, a brand on "life support." So the acquisition of the Volvo franchise was fortuitous for both men and, in 1966, Smythe Volvo came to be, destined to become among the top Volvo Dealers in the USA.
The new Smythe Volvo, which is located at 36-42 River Road in Summit, only 1 mile from its current location, will be a 28,000 square foot, hi-tech showplace.
In the New Car Showroom, customers will view the new models in spacious, comfortable surroundings.
The new Smythe Volvo will make customer concerns about the weather a thing of the past, with an Indoor Used Car Showroom, an Indoor Delivery Area, and an Indoor Service Drive-in Reception Area.
The new Customer Waiting Area will be three times larger and will feature a hospitality bar, comfortable seating, large-screen TVs, newspapers and magazines. There will also be private work stations with complimentary Wi-Fi.
Kevin Flanagan says "Considering what is important to our customers has been the guiding force for planning every aspect of the new Smythe Volvo." That includes elevator service to all three floors, and a clear, well-defined traffic pattern for the new lot, to avoid confusion.
Flanagan says they will be reaching out to their loyal customers to determine what services mean the most to them. "We'll be expanding our loaner car fleet, adding Shuttle Service and more," says Flanagan.
Kevin Flanagan promises that one thing that will not change at the new Smythe Volvo will be the dealership's long-serving staff and their passion for customer service. "Familiar faces will be there to provide the unmatched treatment our customers have come to expect."
Flanagan says his father, Sean, is very proud of the growth of Smythe Volvo and pleased that two of his sons have chosen to make the dealership their life's work.
Son Sean D. Flanagan is a part owner and Vice President of Smythe Volvo. Sean D. is also the dealership's Parts and Service Director and came up through the ranks as a Master Technician.
Until the new facility is completed, in the spring of 2014, Smythe Volvo will continue to operate at 326 Morris Avenue in Summit. For more information, call: 888-349-5758, or go online: http://www.smythevolvo.com.