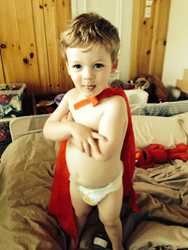 You don't have to quit your job or start standing all day. All you have to do is move a little more all day long.
Kingston, NY (PRWEB) May 23, 2014
As a fun way to raise awareness about the importance of moving more throughout the day, fitness company Voom has issued the challenge "Move When Jack Moves." On Thursday, June 12, the company's COO Emily Soltanoff will be following in her 2 ½ year old son's steps, resting when he rests, and moving when he moves. Voom is challenging everyone to follow along on the duos' journey through Facebook and Twitter. Individuals are encouraged to form teams and then share pictures of them moving when Jack moves to win prizes.
As COO of Voom, a fitness program for inactive workers, Soltanoff is constantly thinking of ways to make health and wellness fun and accessible for the millions of Americans who sit at a desk all day. As a mother of two young children, she often brings her experiences as a working mom into her role with the company. "I know what it feels like to have zero time to spend on my own needs every day. Even as a co-founder of a wellness company, I can relate to the difficulties of making health a priority when there are thousands of other things demanding my attention. That's why when I can think of a fun and easy way to both deliver a message and encourage a healthy behavior, I go all in!"
Sitting too much at work has been reported as the most common health complaint individuals have, with the average American now sitting for more than 50 hours a week. Neck pain, back pain, diabetes, heart disease, cancer, and obesity are all symptoms of an inactive lifestyle, and these hidden consequences of the technological revolution are both chronic and costly. But now that the word has finally gotten out that too much sitting is bad for the body, a problem remains: nobody knows exactly what to do about it.
The good news is that while sitting too long is detrimental to your health, not sitting for too long can do wonders. As Soltanoff states, "You don't have to quit your job or start standing all day. All you have to do is move a little more all day long."
When asked what prompted Soltanoff to launch this unique challenge, she replied, "When talking to people about the importance of movement breaks, I found myself often using the analogy of my children. Babies and toddlers don't stay still for hours and hours, and then spend just one hour every night logging their physical activity by crawling or running around. They move for a while, rest for a while, and repeat. You can see that before society puts demands on our time or on our bodies, we are wired to move in spurts all day long. And that's how Move When Jack Moves was born."
To join the challenge, follow Voom on Facebook and Twitter, download the free toolkit, and get ready to snap pictures and move when Jack moves on June 12.
About Voom
Voom is a complete, cost-effective, fitness and wellness program that gets employees moving throughout the day through hourly exercise breaks. The program engages, motivates, and educates users on the importance of physical activity, making health and fitness both attainable and fun.
For more information about Voom's corporate wellness program, contact Gabrielle Shultis, Director of Marketing, at gshultis(at)voomwell(dot)com.