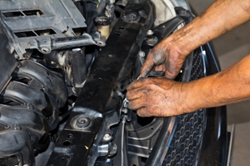 We're one of the few shops left in the U.S. that support older motors and blocks that have been discontinued from production to help consumers
San Diego, CA (PRWEB) March 27, 2015
Vortec engines were in use at the General Motors company from 1985 to 2009 before the Ecotec blocks were introduced. Auto mechanics and owners of cars searching for Vortec 2200 engines can now purchase online at the UsedEnginesSale.com website. The 2200 is now available in the inventory for sale at http://www.usedenginessale.com/chevy/vortec-2200-engine.
The Chevrolet motors that are now supplied are units that are low in mileage counts. Each block that a person can purchase at the UsedEnginesSale.com website has been tested for operational quality. The inclusion of the Vortec builds for sale this year is expected to renew interest in the I4 blocks for older cars.
"We're one of the few shops left in the U.S. that support older motors and blocks that have been discontinued from production to help consumers," said one UsedEnginesSale.com source.
The small block 350, 5.3-liter and 5.7-liter are among the preowned units that can now be reviewed for sticker prices and warranty coverage before a person places an order. Most of the Vortec and Ecotec blocks produced in the past two decades can now be explored for inventory levels and price data.
"We're adding different inventory regularly to our database to provide a good resource of second hand engines for sale across the country," said the source.
As a way to help people who are not searching on the web for replacement motors, the UsedEnginesSale.com company has launched its toll-free number at 1-888-496-6099. This number is connected to a specialist that can provide search assistance and order checkout help to consumers across the United States.
About UsedEnginesSale.com
The UsedEnginesSale.com company is one of the leading suppliers of second hand inventory for Dodge, Chevrolet, Ford, Honda and Toyota vehicles in the United States. The company has a fully integrated website that offers price data and inventory information. The UsedEnginesSale.com company helps people to purchase low cost motors that are still in good condition for repairing older vehicle brands.