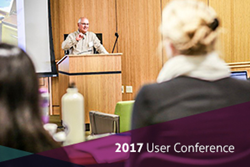 (PRWEB) July 11, 2017
Performance discovery company Vosaic is hosting a one-day conference that will allow users and prospective users the opportunity to network, interact with Vosaic team members, and maximize product use. The Vosaic suite of products includes Vosaic Connect, Studiocode, and iCoda, all of which can be leveraged to enable users to discover patterns and insights.
The conference will include speakers in the field of teacher preparation, education training, and education research who are leveraging Vosaic's video markup and annotation products to discover performance indicators that lead to valuable insights. Other sessions will include updates on new and upcoming features, as well as breakouts and sessions with Vosaic trainers.
"Our user conferences continue to be one of the most effective ways for the Vosaic community to talk with others in their fields about how they're using the features our products offer," said Will Callanen, vice president of sales. "We've heard wonderful feedback from previous user conferences that attendees came away with a lot of new skills and some valuable professional connections."
The all-day event will be held on October 6, 2017 at the University of Maryland College of Education in College Park, MD. Speakers and the official agenda will be announced soon. The event is free, though space is limited, and registrations can be made via Vosaic's website.
About Vosaic
Vosaic, formerly Studiocode Group, is a Lincoln, Nebraska-based performance discovery company that provides video recording and markup tools that help educators, learners, and researchers discover indicators valuable to performance improvement and research outcomes. More information about Vosaic and performance discovery can be found at Vosaic.com.