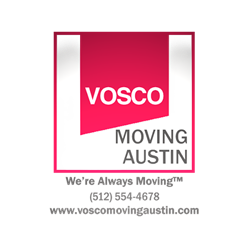 Vosco Moving is a trustworthy, professional and affordable moving service provider
Austin, Texas (PRWEB) February 23, 2014
People can now receive free estimates for all types of moves in Austin, with Vosco Moving introducing their unique quote offer. The moving company believes in offering affordable and reliable services and one can now learn about the moving charges well in advance because of their quote facility. One can use their simple online form to receive the free quote or can call them at 512-554-4678.
The objective of this quote is to offer a peace of mind to the people who want to shift their household or commercial goods from one place to another in Austin. They provide both residential and commercial moves and claim to offer most professional moving services at affordable prices. Moreover, they offer a flat 10% discount on all moving jobs. They have experts in the company who have years of experience in handling moves of all sizes.
The spokesperson of Vosco Moving Austin maintains that for many people, moving their entire household seems to be a hassle and they often feel traumatic in choosing a mover for the job. "By providing them a moving estimate in advance, we help in their decision making. They know the exact cost of moving they would have to pay and we also educate them about our moving work so that they remain tension-free," he states. Moreover, they have also uploaded a video on their website, guiding people about how to carry out moves in an organized and systematic manner.
The spokesperson maintains that people receive the exact quote when they provide all the details in an appropriate manner about their moves. "They are never charged with any extra or hidden fees other than it is quoted", he reveals further. Moreover, they make sure the moving job is carried out in a smooth and secure manner so that a customer doesn't undergo any unnecessary hassle during the move.
This Movers Austin enjoys a great reputation among the customers in the area and they have earned appreciations and positive reviews from many customers.
About Vosco Moving Austin
Vosco Moving is a trustworthy, professional and affordable moving service provider in Austin. They provide both residential and commercial moves and can carry out moves of all types, sizes and of any complexity. The company boasts of moving experts who have years of experience and are committed to offer the best services to their customers.
Follow Vosco Moving Austin at
https://www.facebook.com/voscomovingaustin
https://twitter.com/moversinaustin