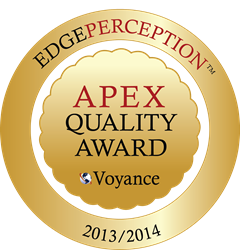 We are pleased to recognize 90 of our clients for the excellence achieved in both care and satisfaction that is based solely on patient feedback.
Branford, CT (PRWEB) August 19, 2014
Voyance is very excited to announce the healthcare industry's 2013/2014 National APEX Quality Award winners. This national distinction recognizes outstanding healthcare organizations that demonstrated the highest level of excellence in patient satisfaction and overall care over the preceding 12 months. Winners are determined solely based on patient feedback and evidence-based success.
The 2013/2014 APEX Quality Award recognizes 90 healthcare organizations across seven healthcare markets and 28 states. Twenty-one of the 90 recipients are first-time winners, while 69 have been recognized in one or more prior years. Ten facilities have the distinction of being recognized for the sixth consecutive year.
"We are pleased to recognize 90 of our clients for the excellence achieved in both care and satisfaction that is based solely on patient feedback," notes Paul Faraclas, Voyance President and Chief Executive Officer. "Attaining this recognition has become incredibly competitive. The tight margin of making it into our top decile requires a track record of delivering a stellar experience throughout the year. As the award criteria emphasizes the measures we believe are tied most closely to caregiver communication, risk mitigation, patient safety and other care-related elements – it remains a fair and responsible assessment."
Voyance clients all use EdgePerception™, the industry's leading patient satisfaction and perception management solution. EdgePerception comes standard with Quality Intelligence™ a built-in feature that promotes quality and process improvement through patient issue resolution. Management groups who oversee multiple locations have access to Voyance's Leadership Console™, which provides executives the ability to efficiently manage a wealth of benchmarks and feedback for all entities with one solution.
Dearborn Surgery Center has been recognized six consecutive years as a national APEX Quality Award winner. Linda Prister, Executive Director, comments, "All of the physicians and staff at Dearborn Surgery Center are incredibly proud to be recognized as a national APEX Quality Award winner for the sixth consecutive year. As a facility, we strive for continuous improvement and the patient feedback we collect fuels these efforts. We have a significant commitment to the service and care we provide, and it is inspiring to see our hard work has paid off. On behalf of everyone at Dearborn Surgery Center, thank you to our patients and their families for their loyalty and trust, and we look forward to continuing to serve our community."
Please click here for the complete list of 2013/2014 APEX Quality Award recipients.
About Voyance
We are pleased to announce that Voyance is now part of Symphony Performance Health (SPH). SPH empowers healthcare transformation by providing clients with powerful data, applications, and analytics that help enhance the patient care experience, improve population health, reduce the overall cost of care, and enhance performance.
Symphony Performance Health looks forward to continuing as the clinical benchmarking arm of Physician Hospitals of America (PHA) and the Ambulatory Surgery Center Association (ASCA), and is a CMS-approved CAHPS® vendor.