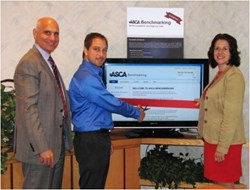 Within weeks, over 600 ASCs have subscribed [to the ASCA Benchmarking Program] and the number continues to grow daily.
Branford, CT (PRWEB) September 26, 2013
Voyance, healthcare's leading provider of patient satisfaction and perception management tools, and ASCA, the ASC industry's national membership association, partnered to design, build and initiate the new ASCA Benchmarking Program. The program was designed with considerable input provided by ASCA's members and industry experts in benchmarking and survey methodology. The program was available for data submission as of Wednesday, September 4th, 2013.
"Voyance and ASCA are extremely pleased with the ASC industry's response to this program, customized for industry and specialty-specific insight. Within weeks, over 600 ASCs have subscribed and the number continues to grow daily," reports Voyance's President & CEO, Paul Faraclas. "Participant feedback has been overwhelmingly positive. ASCA and Voyance spent a great deal of time designing the optimal end-user experience, including many levels of threshold review to ensure the results provide the highest levels of accuracy and reliability. Our collective team is confident that following the period close on the 30th of this month, the reports being developed and customized for all participating ASCs will be invaluable. We will not be surprised at all if participation doubles or triples by this time next year."
Cindy Young, Administrator at Surgery Center of Farmington in Farmington, MO, has already subscribed and submitted data. "ASCA's new Benchmarking Program is much easier to use than the benchmarking program we used in the past. I found I could complete the data entry in half the time it took using our old system."
The ASCA Benchmarking Program is 100% web-based. Intuitive data entry provides line-by-line verification of pre-defined industry standards. Hover help, embedded worksheets and other convenient features, such as single sign-on and frequent auto-saves, create an optimal end-user experience. Comprehensive reports are compiled after an automated verification process, which occurs during data entry and routinely in backend quality checks. Outliers are scrutinized and individualized support and follow up is provided with the goal of 100% data integrity. Participants will receive industry and specialty-specific benchmarks, as well as personalized scorecards to help measure, track, and improve performance. ASCs who want to participate in all four quarters of the 2013 collection must subscribe and submit data for Q1 and Q2 by Monday, September 30th, 2013.
For a brief introduction to the Program's features and reporting, please view this one minute video on the ASCA Benchmarking Program.
About Voyance
Voyance offers a wide range of products and solutions that help healthcare organizations improve overall performance. With a client base that spans nine healthcare markets and all fifty states, Voyance has earned the trust of prestigious management groups, consultants and state and national associations, while helping tens of thousands of providers become top-performers. Our innovative solutions help clients and partners manage external and internal perception, implement quality and process improvement initiatives, and evaluate peer and corporate performance. Voyance serves as the clinical, operational, experiential and financial benchmarking arm of Physician Hospitals of America (PHA) and ASCA. Since 2008 Voyance has been a CMS-approved H-CAHPS® vendor, and has provided CG-CAHPS® surveying solutions and strategies since 2011.
About ASCA
The Ambulatory Surgery Center Association (ASCA) is the national membership association that represents ambulatory surgery centers (ASCs) and provides advocacy and resources to assist ASCs in delivering high quality, cost-effective ambulatory surgery to all the patients that they serve. At ASCA, we are eager to help you become better acquainted with our nation's ASCs and the people who own and operate them. To learn more about ASCs and ASCA, go to http://www.ascassociation.org.