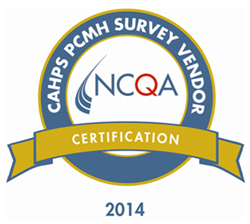 This achievement is a welcome addition to our expanding CAHPS services, and we will use our H-CAHPS and CG-CAHPS experience to enable client success and compliance.
Branford, CT (PRWEB) March 05, 2014
Voyance, a leading provider of patient satisfaction and perception management services, announced today that they have received NCQA certification to conduct the 2014 HEDIS® CAHPS® PCMH Survey to help physicians achieve PCMH recognition and distinction in Patient Experience Reporting. This certification reflects Voyance's commitment to helping clients comply with evolving healthcare requirements and solidify their position as top performers.
NCQA's HEDIS Survey Vendor program was developed by NCQA to promote standardization of data collection; thus, results from consumer experiences are comparable across health plans. To become an NCQA-Certified HEDIS Survey Vendor, an organization must demonstrate that it has the capability, experience and expert personnel to accurately administer the survey.
"Voyance is very proud of this recognition and we are excited to be able to support physicians seeking to achieve PCMH recognition and distinction. Continual innovation and growth is at the heart of what we do, and our product portfolio will continue to advance as a reflection of that," explains Paul Faraclas, Voyance's President and CEO. "This achievement is a welcome addition to our expanding CAHPS services, and we will use our Hospital CAHPS (H-CAHPS) and Clinician and Groups CAHPS (CG-CAHPS) experience to enable client success and compliance."
The PCMH Survey is the first CAHPS-affiliated survey to be officially approved for electronic distribution by the NCQA. Voyance has pioneered electronic surveying in the healthcare industry and has proven that surveying patients electronically improves the quality, timeliness, and value of the feedback received. Voyance clients have the flexibility to survey their patients with either one of these methodologies, or to do a combination of both to receive optimal response rates.
To learn more about partnering with Voyance to achieve PCMH recognition, please contact us here.
About Voyance
Voyance offers a wide range of products and solutions that help healthcare organizations improve overall performance. With a client base that spans nine healthcare markets and all fifty states, Voyance has earned the trust of prestigious management groups, consultants and state and national associations, while helping tens of thousands of providers become top-performers. Our innovative solutions help clients and partners manage external and internal perception, implement quality and process improvement initiatives, and evaluate peer and corporate performance. Voyance serves as the clinical, operational, experiential and financial benchmarking arm of Physician Hospitals of America (PHA) and the Ambulatory Surgery Center Association (ASCA). Since 2008 Voyance has been a CMS-approved H-CAHPS® vendor, and has provided CG-CAHPS® surveying solutions and strategies since 2011.
About NCQA
NCQA is a private, non-profit organization dedicated to improving health care quality. NCQA accredits and certifies a wide range of health care organizations. It also recognizes clinicians and practices in key areas of performance. NCQA is committed to providing health care quality information for consumers, purchasers, health care providers and researchers.
CAHPS® is a registered trademark of the Agency for Healthcare Research and Quality (AHRQ).