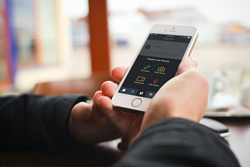 Voycee is the first social network to bring the privacy trend to social media.
(PRWEB) June 02, 2014
The new social network Voycee (http://www.voycee.me) gives users the ability to share and follow status updates, photos, videos, audio files, and other forms of social media posts, all while avoiding privacy concerns which are presented from traditional social media networks today.
While posts from traditional social media networks will almost remain online forever, Voycee only keeps your latest post. The next time you post, your previous post is completely deleted from the Voycee network. Not only does this protect user's privacy, but it also allows a person's followers to only see what he or she has posted the latest. This prevents other user's to backtrack through threads or traipse down their online history to find old posts and other seemingly forgotten things, as well, it prevents user's personal feeds from being cluttered with spam.
"Since you do not have a timeline of your previous posts, you are history-free, showing your followers the 'you' of today, not yesterday not last year and allows you to focus on your present," says a company spokesperson from Voycee, "the next time you create a new update, which we call a 'voycee,' the previous update and all of its comments, notifications, likes and tags are completely deleted from the network."
This not only has obvious pro-privacy implications but it will also presumably raise the bar of what is worth posting in the first place, since every new update wipes the previous, including any 'Likes' or comments. This really is a social network that lives in the moment. How long that moment lasts, however, is entirely down to how often and how much you post.
Voycee is designed around protecting the privacy of the user, as it has become a growing concern in the world of social media that information posted can become a target for data mining and research without a user's consent, as described in an article published in USA Today on March 12th, 2014. Just a few weeks ago, the European Court of Justice appeared to agree, ruling that, in certain circumstances relating to a person's privacy, search engines like Google must respect the "right to be forgotten". With its leave-no-footprint-behind philosophy, Voycee allows its clients to post, or 'voycee' their webpages, thoughts, and selfies without having to worry about information being used without their knowledge or consent.
About Voycee
Voycee is a social media network dedicated to letting its users post their thoughts, opinions, selfies, projects, pictures, audio recordings and videos without the privacy concerns that traditional social media sites present. Since Voycee automatically deletes your previous post, the information is no longer available to those who may use it for unethical purposes. From employment screening to basic day-to-day PR management, information posted online can be used for reasons contrary to the user's intended purpose, to include employment screening for individuals and negative PR for businesses. Voycee's main goal is to give users the freedom to express themselves. They have the ability to post information and multimedia to friends, family, business connections, and other interested parties while also minimizing the negative effects caused by entities who use information posted on social media for reasons other than promoting a positive image for the user.
For more information about Voycee, visit the website at http://www.voycee.me