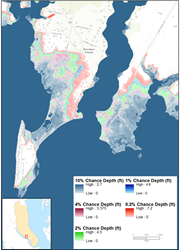 VPC's policy expertise allows Calvert County Government to better serve residents who own flood-prone properties located inside and outside of FEMA's 100-year floodplain.
Fulton, MD (PRWEB) March 03, 2017
The Flood Mitigation Plan Update was funded by a Coast Smart Initiatives Grant from NOAA and administered through the Maryland Department of Natural Resources' Chesapeake and Coastal Service Program. The VPC Team, led by VPC's President, Deepa Srinivasan and Dr. Michael Scott of Salisbury University, utilized FEMA's HAZUS-MH software to estimate the financial loss associated with specific levels of floodwater in the southern Maryland County of Calvert. The analysis takes into consideration how far inland the water will go, as well as its height, to determine how much damage it could potentially cause.
The estimated depth of the potential floodwater was developed from LiDAR (Light Detection and Ranging) elevation measurements taken in 2011, that show not only which areas will be inundated, but also by how much. The HAZUS software then crosses these elevation measurements with the flood polygons of the Digital Flood Insurance Rate Maps (DFIRM's), which are used by the National Flood Insurance Program to determine floodplains and insurance rates. These two inputs generate flood depth grids for areas based on the 10%, 4%, 2%, 1%, and .02% chance of flood occurrences in 2016, 2050, and 2100.
Various flood depth grids are overlaid with the building polygons, to determine which buildings fell in the flood zones. The building layer was then laid over the various flood occurrence grids to determine which buildings were at risk for each recurrence interval. These buildings were then matched to the County's 2013 Tax Assessments to show the assessed value of the property.
Finally, to determine the total financial loss, the function of the building is used to estimate the value of its contents. The industry standard estimates for the contents are; one-half of the value of a residence and 100% of the value of a commercial building. Thus, a total dollar amount can be given for each building, whether commercial or residential, for each potential flood occurrence.
"The success of this project is attributed to our Client who dug into the data," Dr. Scott shared. "It's very heartening to know that someone cares enough to make sure we're doing it right."
"The analysis conducted by Dr. Scott shows Calvert County's flood-vulnerability beyond that of FEMA's DFIRMs, it also identifies flood-prone properties outside of the 100-year floodplain," said Calvert County Department of Community Planning and Building Environmental and Long Range Planner, Tay Harris.
"Combining Dr. Scott's analysis with VPC's policy expertise allows Calvert County Government to better serve residents who own flood-prone properties located inside and outside of FEMA's 100-year floodplain. In recent years, nuisance flooding has become a more frequent problem in Calvert County's low lying communities. It is important to work with these communities to plan for the future and mitigate the impacts of flooding and sea level rise," added Dr. David Brownlee, AICP, Principal Environmental Planner.
Vision Planning and Consulting (http://www.planVPC.com), is a small, minority and woman-owned 8(a) certified firm based in Fulton, Maryland, specializing in emergency management, community planning, public outreach and education, and grants management, with a focus on technology. VPC prides itself in assisting communities to plan and prepare for disasters, and building consensus across all levels of government, private sector, and academia.