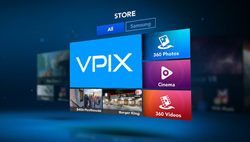 We'll be adding a VPiX app to the Oculus VR store soon, so Oculus VR users can enjoy VPiX 360° content
Monument, CO (PRWEB) January 10, 2016
"We are very excited to learn the Oculus VR headsets will be made available to consumers this spring," says Stephen Meyer, CEO of VPiX. "We'll be adding a VPiX app to the Oculus VR store soon, so Oculus VR users can enjoy VPiX 360° content."
"There's a lot of new 360 cameras and 360-video systems coming out right now that VPiX already supports," adds Bart Wilson, VPiX Founder, CIO and UI/UX Developer. "The Girocam 360, the BublCam, NCTECH's iris360 and even the new Nikon KeyMission 360° -- we support them all.
VPiX® VPS servers are like a Swiss-army knife. We don't care where you capture your 360-content, but it's pretty fun and easy to create interactive 360-panoramas and interactive 360-videos on the VPiX® platform. Just upload your content. Add floating floor plans, navigation buttons, a company logo or a Buy Me Now button. Anyone can now make 360° content with no programming skills necessary and view their 360's on just about any Internet-connected device."
About VPiX
Virtual Pictures Corp changes how the world uses and interacts with virtual tour content for any Mac, PC, tablet, wireless devices and now, VR headsets like the Oculus VR and Samsung Gear VR. VPiX 360 content is easy to share over social media networks. Letting customers "step inside the picture," lets businesses interact with and engage consumers in a whole new way.
Virtual Pictures Corp. (VPiX®) is a privately held Colorado C-Corporation with regional and photography affiliate offices throughout the US. Canada, UK, South America and Australia. VPiX virtual tours are seen by over 9.2 million people annually.
VPiX® 360° cloud servers are patent-pending and have become the preferred platform for creating, hosting and delivering 360° content for clients around the world including Trump, Choice Hotels, The Sands Corp, PBS, Oakwood Corporate Housing and real estate brokers.