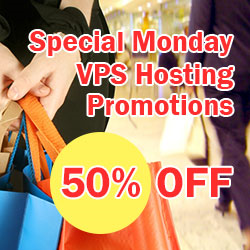 Most special offers have expired, but some web hosts are still encouraging consumers with 50% discounts.
San Francisco, CA (PRWEB) December 02, 2014
The VPS hosting review site BestVPS has been updating Cyber Monday promotions continuously. According to the latest information, BlueHost, InMotion Hosting and A2Hosting are still offering budget-friendly VPS hosting solutions despite the end of this shopping day.
"We've tried to give readers more benefits by picking out the VPS hosting providers whose promotions are ongoing", said Susan Rosie, the founder of BestVPS, "The selected companies offer up to 50% discounts to cut the price down to $14.99/mo, and the given promotional link is the most effective way to activate the special discount."
1) BlueHost – 50% Off
BlueHost VPS hosting solutions include some add-on services, including one domain, up to 2 IP addresses, and a certain amount of marketing offers. This promotional link enables people to activate a 50% discount and pay for the service at $14.99/mo. The anytime money back guarantee allows customers to get their money back if they are not pleased with the service.
2) InMotion Hosting – 50% Off
InMotion Hosting has 3 VPS hosting packages starting at $29.99/mo regularly, designed for websites in different sizes. This company brings this exclusive promotional link into effect to enable a 50% discount for all VPS hosting plans. Through this link, people can purchase the service at $14.99/mo. Besides, the 30-day full refund guarantee allows webmasters to check carefully whether the service is of high value.
All of InMotion VPS hosting solutions include SSDs, at least 2 dedicated IPs, an advanced firewall, and full cPanel license.
3) A2Hosting – 34% Off
A2Hosting offers a 34% discount with this exclusive promotional link to make the price as low as $9.89/mo. Some extra services are also available, including an auto-installer for developer software, 1 IP address, and IPTables.
In addition to the VPS hosting deals, some shared hosting promotions are also mentioned. To get more offers, visit https://bestvps.us/vps-promotion-monday-december-2014/.
About BestVPS
BestVPS is created for webmasters who thirst after VPS hosting tutorials, beginner's guides, latest promotions, VPS hosting evaluation, and some other VPS related resources.