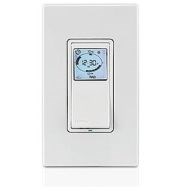 By simply replacing standard switches with timer switches will reduces energy consumption and extends bulb life.
Issaquah, WA (PRWEB) December 10, 2013
A leading provider of hardware equipment and electric tools, TheHardwareCity.com has expanded its offering of high-quality Decora switches with the Vizia+ 24 hour programmable timer device. Also known as the VPT24-1PZ, this timer switch packs higher accuracy and advanced features to help users reduce electrical costs.
The entire line of Leviton Decora switches was designed as a power-saving alternative to regular switches, as its fully programmable timer settings will both lower energy consumption and extend light bulbs' life span. The Vizia+ timer switch is no different, allowing 24-hour monitoring and timed control of any electrical or lighting system.
VPT24-1PZ timers can be used at home or at the office, but also in hotel rooms, schools, stores, etc., as they can be programmed to include up to 50 on/off event settings in a day. Since they are easily customizable, the switches can be set to activate at specific time intervals, 50 times a day, to perfectly match any lighting needs.
"These little gadgets are incredibly useful. For instance, homeowners on vacation can schedule the switches to turn the house lights on or off to give the impression that they are actually at home. In turn, offices and hotel rooms can program the timer switches to turn ventilation systems and electricity on and off in order to save power," a representative of TheHardwareCity.com explained.
The Vizia+ timer switch is also equipped with an astronomical clock for greater accuracy. Programmed to adjust to Daylight Saving Time and local sunrise and sunset times, the timer switch will never be at risk of lagging behind or failing to activate at the exact moment it was supposed to.
Available in white, light almond and ivory, the timer switch has a built-in rechargeable battery that does not need replacing. So even if the power is interrupted, the battery backup will ensure that the switch keeps all its programmed settings. And the device's backlit LCD display allows users to easily read the timer settings, while its green LED light helps locate the device in a dark room or environment.
The VPT24-1PZ programmable indoor timer switch with Astronomical Clock is available at TheHardwareCity.com for $30.20.
AboutTheHardwareCity.com
Since it first went online in 2007, TheHardwareCity.com has constantly expanded to become one of the largest Internet retailers of electric tools and hardware. Its range of products includes electric devices, construction materials, home and garden suppliers and more.
The company staff includes experts in the niche, who are always available to assist customers in making the right purchase, via the website's live chat. More information about the products and services offered is available at http://www.thehardwarecity.com/