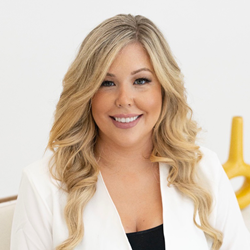 Side's world-class marketing and support services are essential in today's industry, but they're especially crucial in this local housing market
RALEIGH, N.C. (PRWEB) August 10, 2022
VRAI Realty today announced its partnership with Side, the only real estate technology company that exclusively partners with high-performing agents, teams, and independent brokerages to transform them into market-leading boutique brands and businesses. The alliance will ensure that VRAI Realty's community- and resource-oriented services are powered by the industry's most advanced platform.
VRAI Realty was founded by Alison Wojnarowski, a lifelong resident of the Triangle who knows its cities and suburbs inside out. Generating $55 million in sales in 2021 and $100 million since becoming an agent in early 2020, Wojnarowski complements her services with a renovation business, called Renovating Raleigh, and a Facebook community group, called Relocating to Raleigh, that provide invaluable resources for relocators. VRAI Realty serves buyers and sellers throughout Raleigh, Cary, Wake Forest, and Durham.
Partnering with Side will ensure VRAI Realty remains on the cutting edge of the evolving real estate market while continuing to deliver premium services to its clients. Side works behind the scenes, supporting VRAI Realty with a one-of-a-kind brokerage platform that includes proprietary technology, transaction management, branding and marketing services, public relations, legal support, lead generation, vendor management, infrastructure solutions, and more. Additionally, VRAI Realty will join an exclusive group of Side partners, tapping into an expansive network from coast to coast.
"Side's world-class marketing and support services are essential in today's industry, but they're especially crucial in this local housing market, where the population boom from migration is forecasted to continue well into the future," Wojnarowski said. "I'm especially thrilled to gain access to Side's tech-forward back-end system, which will allow me to stay connected with my clients, business partners, and community."
About VRAI Realty
VRAI Realty does more than buy and sell properties: It aims to change real estate perceptions with its relocation and renovation services and community-centric approach. The team of professionals want everyone to love living in the Research Triangle, and so they help clients achieve their goals as their indispensable resource. Headquartered in Raleigh, VRAI Realty serves Raleigh, Cary, Wake Forest, and Durham. For more information, visit http://www.vrairealty.com.
About Side
Side is a behind-the-scenes brokerage platform that exclusively partners with top-performing agents, teams, and independent brokerages to create and grow their own boutique brands without the cost, time, or risk of operating a brokerage. Side's proprietary technology platform and premier support solutions empower its agent partners to be more productive, grow their business, and focus on serving their clients. Side is headquartered in San Francisco. For more information, visit http://www.sideinc.com.