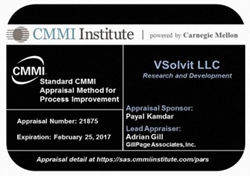 We are always striving to innovate while providing reliable and consistent services to our clients—and CMMI level 3 shows we can do it! -Payal Kamdar, CEO
Ventura, CA (PRWEB) November 12, 2014
Award-winning IT services provider VSolvit, LLC, is proud to announce that its Research and Development (R&D) Division has been appraised at Capability Maturity Model Integration (CMMI) Level 3. The appraisal was conducted by GillPage Associates, Inc.
CMMI is a process-improvement approach that provides organizations with the essential elements of effective processes that ultimately improve their performance. An appraisal at maturity level 3 indicates the organization is performing at a "defined" level. At this level, processes are well characterized and understood, and are described in standards, procedures, tools, and methods. The organization's set of standard processes, which is the basis for maturity level 3, is established and improved over time.
"I am tremendously proud of our team and the members of our staff for enabling VSolvit to earn this appraisal," said Ms. Payal Kamdar, VSolvit's President and CEO. "We are always striving to innovate while providing reliable and consistent services to our clients—and CMMI level 3 shows we can do it!"
About VSolvit-
VSolvit (pronounced: "We.Solve.it") is an award-winning SBA certified 8(a)/Small Disadvantaged Business, HUBZone, and 8(m)/Economically Disadvantaged Woman owned, technology services provider that specializes in Business Intelligence (BI) systems, Data Warehousing (DW), Geographic Information Systems (GIS), Custom Application Development, Health Analytics, and Project/Program Management.
VSolvit's customer list includes the Department of Defense (DOD), the U.S. Department of Agriculture (USDA), the Department of Housing and Urban Development (HUD), and multiple commercial organizations. VSolvit has been selected to support high profile initiatives including launched application from The White House, and has been recognized for its innovation and outstanding delivery. Some of the awards/key milestones include:
(2014) CMMI-DEV Level 3, Innovation Through Technology Business of the Year, Goldman Sachs 100 Most Intriguing Entrepreneurs , 5 Yr - $500M Single Award DFAD Contract
(2013) 5 Yr - $53M Single Award NAVFAC EBS Contract, Health Mapping Portal Launch
(2012) SBA Region IX SBA Minority Business Person of the Year
(2011) USDA Woman Owned Business of the Year
For more information, visit: http://vsolvit.com/
About CMMI-
CMMI is the result of more than 20 years of ongoing work at Carnegie Mellon University by members of industry, government, and the Software Engineering Institute. Powered by Carnegie Mellon, the CMMI Institute is working to build upon CMMI's success, advance the state of the practice, accelerate the development and adoption of best practices, and provide solutions to the emerging needs of businesses around the world.
For more information, visit http://whatis.cmmiinstitute.com/