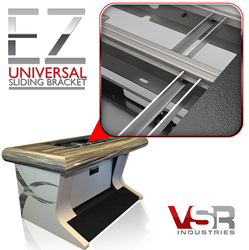 The EZ Universal Sliding Bracket System has cut installation and game change time in half.
Las Vegas, NV (PRWEB) March 03, 2016
The EZ Universal Sliding Bracket system was an idea born of VSR's direct involvement in many of their casino customers' slot floor game installations. Installing a new game on a traditional slot base is a difficult, labor-intensive endeavor, primarily due to the fact that game mounting hardware locations can vary widely from machine to machine. This requires drilling new holes in the top of each individual slot base, and a complicated positioning of the game onto the base, involving 2 or more technicians. Additionally, every game change further degrades the top surface of the slot base, as more and more holes are drilled to accommodate new games.
Enter The EZ Universal Sliding Bracket System. It's open design and sliding brackets allow one technician to precisely position the mounting hardware for any game quickly and efficiently, with ample clearance for wiring, ductwork, and any other connectivity components that must pass through the top of the base.
"VSR provides a seamless customer experience, including smooth, expeditious installations. The EZ Universal Sliding Bracket System has cut installation and game change time in half."
— Colt Vollmann, President, CFO VSR Industries
Established in 1969, VSR Industries has grown into an industry-leading lean manufacturing facility, employing over 200 people worldwide. VSR specializes in the manufacture and final installation of high security gaming locks, wood and metal slot bases, slot cabinets and custom fabrication. With a 130,000 square foot manufacturing facility, VSR remains the only base and lock manufacturer who controls every aspect of what becomes the final product—no middlemen. No other company in the industry can make this claim. No competing manufacturer holds licenses in more gaming jurisdictions worldwide than VSR. VSR Industries remains a privately held company, based in Las Vegas, Nevada.