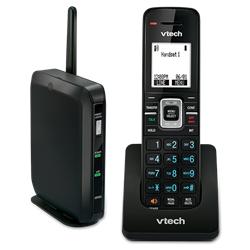 Buffalo, NY (PRWEB) May 31, 2014
VoIP Supply, North America's leading VoIP solutions provider, is announcing today the availability of new VTech VoIP phones, DECT phones, and conference phones.
VTech was founded in 1976 and is now one of the world's largest manufacturer of cordless telephones and electronic learning toys for children with the goal of providing cost effective devices that are both innovative and high quality.
VoIP Supply is now carrying:

VTech ErisStation Wireless Conference Phone: The VTech VCS704 ErisStation Conference Phone is a 2-line analog phone with PBX/PSTN compatibility that features wireless DECT 6.0 microphones with Orbitlink Wireless technology, dynamic noise reduction, and automatic gain control to normalize audio levels.
VTech ErisTerminal VoIP Phones: The VTech ErisTerminal VSP725 is an entry-level Power over Ethernet (PoE) VoIP phone with 3-SIP lines and HD Voice while the ErisTerminal VSP735 is the 5-Line version with a larger backlit display. Both phones have built-in DECT 6.0 radio that can be paired with VTech cordless headsets.
VTech ErisTerminal Cordless DECT Phones: The VTech ErisTerminal VSP600 is a 6-line DECT SIP phone with a base station that can be expanded up to 6 total cordless handsets. Each additional handset can then be assigned their own unique phone number or extension to expand call coverage.
The wireless DECT capabilities of VTech's conference phones and handsets allow users a great deal of flexibility in device placement within a room and for mobile communication within an office.
VTech devices come with a 2-year warranty backed by 20 years of experience.
For more information about VTech phones available at VoIP Supply, speak with a live representative by calling 800-398-8647.
About VoIP Supply
We are a place of uncovering, cultivating and developing leaders. A world class place to work with big goals, a clear vision, defined purpose and a dedicated team of passionate business professionals. We love what we do and do it better than any of our competition.
Since 2002, VoIP Supply has been the leading supplier of VoIP equipment and complete VoIP solutions in North America. We are known in the industry as responsive and knowledgeable VoIP product experts.
With everything you need for VoIP, VoIP Supply has grown rapidly throughout the years. VoIP Supply is a three-time Inc. 500/5000 honoree, listed by Business First as one of WNY's Most Admired Companies, as well as one of Western New York's Best Places to Work for many consecutive years, including 2012. VoIP Supply is also the first Certified B Corporation in Western New York.