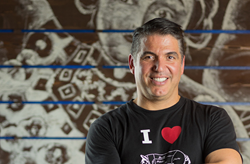 "Vuelo's menu is full of fresh flavors, bold spices, and the right amount of attitude," says Chef Mark Estee.
Tampa, Florida (PRWEB) November 11, 2016
Highly acclaimed restaurateur and James Beard-nominated Chef Mark Estee brings his passion for fresh ingredients and authentic flavors to Vuelo Mexican Grill, Tampa's hottest new Mexican restaurant. As Vuelo's food and restaurant consultant, Chef Estee developed a menu with a welcoming mix of Mexican-inspired familiar and new dishes, including a full range of house made salsas.
With an impressive list of awards and accolades to his name, Chef Estee continues to shape the evolving food culture through innovative dishes and authentic relationships. Among his many accomplishments:

James Beard Semifinalist – Best Chefs in America, 2013
Cooking Channel: Bite This with Nadia G
Food Network: Diners, Drive-Ins and Dives
Food Network: Guy's Grocery Games – Winner
Chef Estee @ TedX: Things I Love That Make My Business Successful
MSNBC, "Supply & Demand: A vertical supply chain 2015" called Chef Estee, "...a force to be reckoned with."
Mark's Path to Success (https://vimeo.com/87893851)
"Vuelo's menu is full of fresh flavors, bold spices, and the right amount of attitude," says Chef Mark Estee. "We've done everything right with this restaurant--from operations to branding, from the menu development to training our staff, to the design of the interior space—everything clicked. I'm excited to bring this menu to Tampa."
Highlights of Vuelo Mexican Grill's menu include:
A free salsa bar with a variety of house made salsas every day, ranging from mild to hot, including Fruit Salsa, Mild Luis, Huancaina, Hot Tomás and Mojo Cubano.
Authentic, hand-carved Molcajete bowls from Mexico, bubbling with seafood, filet mignon or charred vegetables in spicy and flavorful broths.
Oven Roasted Shishito Peppers with Sea Salt and Lime, Ahi Nachos with Avocado Crema and Cast Iron Cauliflower with Green Chile Salsa round out a traditional appetizer selection.
Authentic street tacos with slow-cooked pork carnitas, barbacoa beef, achiote chicken, beef lengua, spicy chorizo, charred vegetables, and fish.
Local Executive Chef Travis Donmoyer will take the helm on a daily basis, and will help lead future menu development. Vuelo Mexican Grill is open from 11 am until midnight, and offers Lunch Specials, Happy Hour, Weekend Brunch, Sports Specials, and a Late Night menu in addition to their regular menu.
About Vuelo Mexican Grill: At Vuelo Mexican Grill, we serve hand-crafted Mexican cuisine from our scratch kitchen with fresh attitude and spirit for modern times. Our family-owned restaurant is classic Mexican with Latin/South American flavors and twists, bringing an entirely new experience to Tampa and the food lovers that live here! Vuelo's lively atmosphere and delicious food create a truly memorable experience. For more information, visit http://vuelomexicangrill.com.