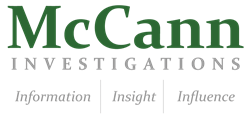 Our goal is to create stronger networks while encouraging more knowledge of network security in all of our clients.
Houston, TX (PRWEB) August 16, 2013
McCann Investigations, a private investigations firm in the Houston area that focuses heavily on digital security and forensics, announced the availability of its network vulnerability assessments.
A network vulnerability assessment is the first step to implementing a process to find and identify security risks in a digital network. Businesses or organizations that have vulnerabilities in the networks could potentially have those weaknesses exploited by malicious attackers.
"Everyone needs the peace of mind that comes with a strong, secure network," said Daniel Weiss, Managing Partner at McCann Investigations. "For best results, we encourage businesses to undergo network vulnerability assessments every quarter."
McCann's Houston-based network experts perform a variety of tasks with each vulnerability assessment. These tasks could include data gathering, setting up scanning tools, planning of scans, etc. Upon completion of a scan, these experts must go through and verify all of the vulnerabilities discovered in the assessment, determine the potential impact of all of these vulnerabilities if they were to be exploited and prioritize efforts for remediation.
The firm's network experts encourage businesses and organizations to stay actively involved in the assessment process so that they more thoroughly understand the vulnerabilities in their system and their potential consequences.
"Our goal is to help create stronger networks while encouraging more knowledge of network security in all of our clients," said Weiss. "We are pleased to help do this in any way possible."
For more information about the services provided by McCann Investigations in the Houston area, visit the company's website at http://www.mccanninvestigations.com and follow the company on Twitter at @mccangi.
About McCann Investigations
McCann Investigations is a Texas-based private investigations practice focused on comprehensive investigations incorporating digital forensics, surveillance, undercover work and background checks for clients in various case types. Service areas include intellectual property theft, non-compete enforcement, fraud, embezzlement and family law. McCann Investigators are experts in the latest computer forensics tools and are licensed with the state of Texas. McCann examiners have provided expert testimony and reporting in hundreds of cases across the state.