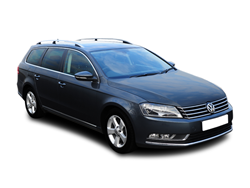 Petersfield, Hampshire (PRWEB UK) 28 February 2014
IVL Leasing are known for a quality professional and personal service, combined with highly competitive offers for those looking to lease a car or van. These days leasing or "contract hire" is becoming more appealing than ever financially, and the latest deal from IVL has to be seen to be believed.
The ever reliable, yet capable and stylish Volkswagen Passat Estate is a much sought after family car, offering oodles of space along with great build quality, class leading economy as well as bags of style. The German engineered Passat undercuts the pricier rivals such as BMW, Mercedes and Audi on price, but generally matches them in other areas.
If five years ago someone announced that a brand new car such as the VW Passat was available to lease for under £200 per month (+VAT) it would have seemed like an error. But that is what IVL Leasing are now offering - the VW Passat 2.0TDi SE Bluemotion Tech Executive Estate, with full leather upholstery, Sat Nav, Alloys, Climate control and much more, for £199.99+VAT per month, with an initial payment of £1395+VAT over 4 years. This is for business users, they have an equally tempting deal for those after a personal lease deal too.
The days of car ownership as a preferred choice are numbered, as second hand car valuations continue to decrease, and leasing is now in almost all cases the choice that makes the most financial sense.
As well as the amazing Passat Estate deal, IVL have some excellent offers on a variety of Fords, Skodas, Seats and BMWs and more. Check all their current deals today: http://www.ivlleasing.com/special-offers.
ABOUT IVL LEASING
IVL Leasing have been around for over 26 years, and are an accredited franchise of Network, part of LeasePlan UK Ltd. Focussing in Business Contract Hire as well as Personal Leasing, they have access to many limited offers with amazing discounts, and can source pretty much any car on the market.
For more information contact John Crombie on 01730 260909 or john(at)ivlleasing(dot)com to find out more, or visit their website to obtain a personalised quote today http://www.ivlleasing.com.