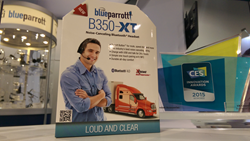 We're pleased with the overwhelming response our products got at CES 2015.
Dover, N.H. (PRWEB) January 20, 2015
VXi Corporation created a significant stir at the 2015 International CES show in Las Vegas, Nevada, this month. Their three innovative new products, the programmable BlueParrott® B350-XT, and extendable boom Reveal™ and Xplorer™, brought a steady stream of interested attendees to their booth and two hospitality suites.
THE MEDIA GOT THE MESSAGE
The technology press knows a good thing when they see it. Both Technology TV and NewsWatch TV (a weekly consumer electronics television program), filmed segments at VXi's booth. For David Jaques, VXi's director of product marketing, CES 2015 was a blur of back-to-back interviews and product demonstrations—clearly, the word was out that VXi had the goods. VXi's customer-centered innovations made good copy, too, especially the B350-XT, which was honored with a CES Innovation Award. Press who missed VXi at the show can request review units or more information online.
SO DID DISTRIBUTORS AND RETAILERS
Partners and potential partners also beat a path to VXi's booth. They were quick to see the value and marketability of VXi's exclusive forms and functions, like the B350-XT's customizable Parrott Button™ and the best-of-both-worlds benefits of the extendable microphone boom shared by Reveal and Xplorer. Retailers, distributors and resellers who couldn't visit VXi at CES can easily arrange for a product consultation or complimentary trial through the company's website.
AND THE PEOPLE
The interest and attention VXi garnered from other attendees (those not in the media or potential partners) demonstrated VXi's unerring ability to "Give the people what they want." Even casual passers-by were tremendously enthusiastic about the new products' exclusive, and incredibly practical, features—as well as their other advanced capabilities like one-touch pairing via NFC (Near Field Communication) and audio streaming.
"We're pleased with the overwhelming response our products got at CES 2015," said Michael Ferguson, president and CEO of VXi. "As always, we conceived and designed the B350-XT, Reveal and Xplorer in response to real-world consumer needs, so we expected them to strike a chord with show attendees, customers and people everywhere. But we are gratified by the intensity of the reception, which confirms to us that we're doing things right. Next year, we're going to need a bigger booth."
ABOUT VXI CORPORATION
VXi provides the best-performing headsets, telecommunications and speech recognition solutions for the benefit of mobile professionals, small and large businesses, and contact centers around the world. From Bluetooth® to Unified Communications, they meet the highest global standards for product quality and service, backed by the industry's best warranties. VXi designs, markets, sells and supports their products from Dover, N.H., and takes pride in delivering value, excellence and innovation. That is why VXi is The Sound Choice™. Learn more at http://www.vxicorp.com.