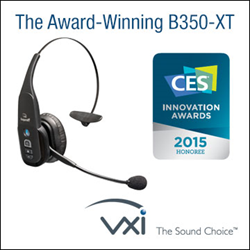 These new products are a one-of-a kind evolution in Bluetooth headsets, and CES attendees will be among the first to see VXi's newest innovations. We are striving to set new standards for what is possible in Bluetooth headsets.
Dover, NH (PRWEB) December 09, 2014
In keeping with their reputation as technology innovators, VXi Corporation will be featuring three new Bluetooth headsets at the 2015 International CES at the Las Vegas Convention Center (Booth #36264). These three new products, the BlueParrott® B350-XT, Reveal™ and Xplorer™, all boast advanced capabilities unique to VXi.
LOUD AND CLEAR—AND CUSTOMIZABLE
Selected as a 2015 CES Innovation Awards Honoree, the VXi BlueParrott B350-XT is the latest in a long line of popular—and revolutionary— BlueParrott products. No other Bluetooth headset in the industry offers its combination of high-performance microphone noise canceling and intelligibility—ensuring that users are both heard and understood, even in extremely high-noise environments. What really sets the B350-XT apart is its exclusive Parrott Button™. Easily customized on the go with VXi's BlueParrott app, the Parrott Button can be set to perform a range of functions, including mute, speed dial, launching an app, and more.
LOWERING THE BOOM ON BACKGROUND NOISE
With its extendable boom, the VXi BlueParrott® Reveal™ is a "best of both worlds" solution for mobile communication. When ambient noise is low to moderate, leave the boom in its retracted position, and enjoy the small form factor and exceptional noise canceling. In noisier environments, slide the boom out to bring the microphone closer to your mouth. In this position, Reveal removes as much as 91% of background noise with the exceptional sound quality VXi is known for.
GET CLOSER. COMMUNICATE BETTER.
The VXi BlueParrott® Xplorer™ is the Reveal's virtual twin, with the addition of a black, rubberized coating. It delivers all the benefits of VXi's extendable boom, and shares an exceptional feature set with both the Reveal and B350-XT: Near Field Communication (NFC) to make pairing one-touch easy, pairing with two devices at the same time, and streaming audio from any Bluetooth device.
"Many attendees have already bookmarked the VXi BlueParrott booth as a key destination for themselves at CES this year," said Mike Ferguson, President and CEO of VXi. "They are eager to see the B350-XT, Reveal and Xplorer because they incorporate everything we've learned in our 25 years of building better headsets. These new products are a one-of-a kind evolution in Bluetooth headsets, and CES attendees will be among the first to see VXi's newest innovations. We are striving to set new standards for what is possible in Bluetooth headsets. Visit us at CES, and find out what practical, customer-centric innovation looks and sounds like."
VXi will be exhibiting the B350-XT, Reveal and Xplorer at Booth #36264 in South Hall 4. The company has also reserved Suites 4103 and 4118 at the Westgate Las Vegas Resort & Casino (formerly the LVH). Space is limited, so book your appointment online today or by email at CES2015(at)vxicorp(dot)com.
ABOUT VXi CORPORATION
VXi provides the best-performing headsets, telecommunications and speech recognition solutions for the benefit of mobile professionals, small and large businesses, and contact centers around the world. From Bluetooth® to Unified Communications, they meet the highest global standards for product quality and service, backed by the industry's best warranties. VXi designs, markets, sells and supports their products from Dover, N.H., and takes pride in delivering value, excellence and innovation. That is why VXi is The Sound Choice™. Learn more at http://www.vxicorp.com. Connect with VXi on Facebook, LinkedIn, or Twitter.
ABOUT CES
The International CES is the world's gathering place for all who thrive on the business of consumer technologies. It has served as the proving ground for innovators and breakthrough technologies for more than 40 years—the global stage where next-generation innovations are introduced to the marketplace. As the largest hands-on event of its kind, CES features all aspects of the industry. And because it is owned and produced by the Consumer Electronics Association (CEA), the technology trade association representing the $211 billion U.S. consumer electronics industry, it attracts the world's business leaders and pioneering thinkers to a forum where the industry's most relevant issues are addressed. Follow CES online at http://www.CESweb.org and through social media.