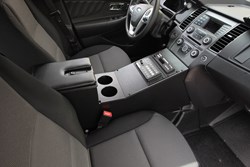 "Since I've been using Hitec for [vehicle consoles and storage] applications, my business has quadrupled and continues to grow," said Mike Snow of Plastix Plus.
Houston, TX (PRWEB) January 22, 2014
Plastix Plus which specializes in consoles and storage compartments for police, fire and rescue vehicles, has selected Vycom's Hitec material for consoles in the brand new Ford Police Interceptor Sedans and several other models.
"We fabricate full size, center consoles for most of the popular police vehicles on the market today," said Mike Snow, President and co-owner of Plastix Plus. "We designed the radio console with the officer's safety in mind, by pushing the area up and forward, so they can keep their eyes as close to the road as possible," said Snow.
He said the consoles also have provisions to add a computer mounting assembly directly to the side, eliminating expensive add-ons. And, there is a large, deep storage well under the padded arm rest with a hidden storage area under the removable cup holder.
According to Snow, unlike other consoles that are pressed from light gauge steel and aluminum, Vycom's ½" and 3/8" thick Hitec HDPE (high density polyethylene plastic) goes through a thermoplastic welding process. "The beauty of this is they are delivered to the police department as a complete unit, ready to drop in," he said.
Snow added that Hitec answered the need for a material with durability, high impact resistance and easy clean up. "Our consoles are designed to form-fit the specific vehicle they are built for, resulting in a streamlined, aesthetically pleasing unit," he said. "We currently make consoles for the all new Ford Interceptor SUVs and Sedans, Expeditions, F-150s and Superduty, Chevy Tahoe, Suburban and Silverado, as well as a few others. The sleek black look of Hitec suits the designs perfectly."
Snow had a vision for better consoles and heavy-use truck compartments while he was a volunteer firefighter for 26 years. He translated the need for heavy-use truck compartments, consoles and equipment racks to his own fabrication business by customizing them out of Hitec because it is chemical and abrasion –resistant, easy to weld and fabricate and has a texture that prevents tools from sliding around. And with fire fighting's high moisture environment, there's the worry of rust with metal pieces or rot with wood.
As Plastix Plus has branched out nationally, in addition to local fire and emergency medical departments, the company is now making weapons/gear storage solutions for vehicles for the U.S. Marshals Service, Homeland Security, ATF, DEA, FBI and numerous other local law enforcement agencies nationwide. They have also supplied the U.S. Army with weapons racks for barracks and armory's in Afghanistan. "Since I've been using Hitec for these applications, my business has quadrupled and continues to grow," said Snow.
For more information about Plastix Plus, visit http://www.pptexas.com. To learn more about Hitec, visit the Vycom website at http://www.vycomplastics.com.
Vycom, a division of CPG International, is dedicated to maintaining an environment where quality meets performance. Vycom offers the largest range of products, capabilities and inventory for all your Olefin and PVC needs. For more information, visit http://www.vycomplastics.com.