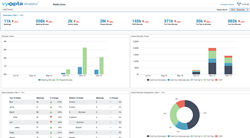 It is a huge opportunity for companies to optimize their WebEx to simultaneously save time in collaboration among employees, customers, and partners to improve productivity.
Austin, TX (PRWEB) January 07, 2015
With the launch of vAnalytics™ for Webex, Vyopta expands its award-winning SaaS platform for video collaboration analytics to WebEx, the industry's leading unified communication application, filling a large information and data gap for IT managers. vAnalytics for WebEx enables enterprises to optimize how they use WebEx, increase adoption, monitor and control costs, and simplify reporting and compliance.
"Vyopta enables companies to improve productivity by getting more from their investments in collaboration technology. With vAnalytics for WebEx we now can help thousands of enterprises with WebEx improve how they collaborate while simultaneously reducing unnecessary costs,"said Vyopta CEO Alfredo Ramirez. By aggregating detailed data about hosts, participants, meeting minutes, and audio minute types, vAnalytics from Vyopta gives IT Managers and Collaboration Network Managers the insights needed to get the most out of their investment in Webex
Hosted meetings using audio bridges can cost companies millions of dollars per year. Attendees call in via a variety of methods, which often results in per minute toll charges for each participant. Two Fortune 50 companies are using vAnalytics for WebEx today. A pharmaceutical company has been using vAnalytics for WebEx to increase adoption while switching to WebEx as their sole provider of meeting collaboration software, and a top energy company is using vAnalytics as a single tool that can optimize costs and monitor usage for employees around the world.
With vAnalytics for WebEx, customers get an intuitive interface that generates compelling graphs and reports on the critical WebEx operational metrics. IT managers can use these reports to identify key performance improvement insights and address any compliance reporting needs.
Visit http://www.vyopta.com today to learn more and get a free demo of vAnalytics for WebEx.
About Vyopta Incorporated
Vyopta provides the most powerful analytics and engagement platform for enterprise video and unified communication networks.
Vyopta products vAnalytics™, vSchedule™, vControl®, vAccess™, and vPublish™ are used by many of the largest enterprises in the world to increase the return on and unlock the potential of their video investments. The cloud based platform allows organizations to improve visibility into their video network performance, increase video calling usage, and deeply integrate video into their business. The company serves customers in a wide range of industries including financial services, technology, healthcare, higher education, and government.