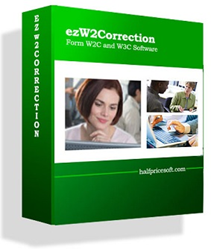 ezW2C and W3C software now includes several updates for money saving and time saving purposes.
Boston, MA (PRWEB) June 04, 2015
ezW2 2014 Correction software from Halfpricesoft.com has been released with new features for customer satisfaction and convenience. This innovative tax preparation software processes W2 and W3 Corrected forms to the IRS cheaper and easier than other products on the market! The money saving feature that is highlighted is the ability to print on white paper rather than the expensive red-ink forms usually associated with W2 Correction filing. The updated application also includes the following enhancements:
1. New company management feature makes it easy to print W2 Correction tax forms for multiple clients
2. One flat rate for multiple clients
3. Quick data import feature save time
4. Blank paper printing saves money
"ezW2C and W3C software now includes several updates for money saving and time-saving purposes." said Halfpricesoft.com founder Dr. Ge.
As with all software from Halfpricesoft.com, ezW2 Correction has a user-friendly design that allows customers to get started immediately after installation from:
http://www.halfpricesoft.com/w2c_software.asp. The software's point-and-click simplicity makes it ideal for small business owners who have better things to do than learn complicated software.
Priced from $39 for the basic, single user version, the new W2 and W3 forms correcting software combines versatility and affordability. Some of the favorite features include, but are not limited to:

Environmentally friendly with PDF and eFile options.
No cost remote access for fast problem-solving resolutions.
Sample data available for testing purposes.
Advanced Efile version available at $79.00
Data import feature available for easy processing.
W2 Correction is designed to be simple and intuitive, allowing users to get started right away.
ezW2Correction software can print W-2C (copy 1, 2, A, B, C and D) AND w-3C on white paper. SSA-approved.
ezW2Correction can fill data on pre-printed forms.
ezW2Correction can support unlimited companies, recipients and forms at one cost.
Try before purchasing with the 30-day no obligation trial ( A key must be purchased to remove TRIAL from forms. All other functionality is provided for testing purposes).
Download and start saving today by test driving ezW2 Correction tax preparation software at:
http://www.halfpricesoft.com/W2c_software.asp
About Halfpricesoft.com
Halfpricesoft.com is a leading provider of small business software, including payroll software, accounting software, employee attendance tracking software, check printing software, W2, software, 1099 software, and barcode generating software. Today software from halfpricesoft.com is trusted by thousands of valuable customers and helps small business owners simplify payroll processing and business management.