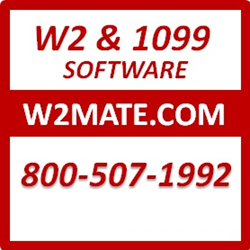 A free evaluation of W2 Mate 2014 can be downloaded from W2Mate.com
Chicago, IL (PRWEB) December 29, 2014
W2 Mate software (http://www.W2-Mate.com/) is excited to announce a new feature that allows employers and payroll departments to offer employee W2 forms electronically either by emailing or making them available for download online through the employer's self-service website / online portal. This new feature greatly benefits both employees and employers while still complying with IRS regulations for furnishing wage and tax statements.
Electronic W2 delivery greatly reduces the possibility an employee's form W-2 be lost, stolen, delayed or misplaced. It also makes compensation and tax-withholding information easily downloadable into income tax preparation software programs.
In the past, only larger companies could afford an advanced W2 filing software system to manage W2 printing and electronic filing process. With W2 Mate, any business can gain full-scale W2 reporting management tools featuring state of the art integration with leading accounting and tax applications including Intuit QuickBooks (QuickBooks Pro, QuickBooks Enterprise, QuickBooks Premier) and Microsoft Dynamics(GP, SL or Great Plains). W2 Mate 2014 trial download is available from http://W2-Mate.com/download-1099-filing-software/ .
W2 Mate can also generate an unlimited number of W2 electronic filing submissions ready to upload to the SSA Business Services website. Processing W2s electronically is easy to use, efficient, secure, fast, flexible, and above all saves filers valuable time and money. Any filer of W2 statements may submit their forms electronically; however any employer or business who files 250 or more forms for any calendar year must file electronically.
Year after year, small businesses and accounting firms rely on W2 Mate to process accurate and timely 1099 and w2 returns with the IRS and Social Security Administration. W2 Mate software has some of the best 1099 software reviews in the industry. W2 Mate W2 and 1099 tax software offers support for paper-print and paperless (electronic) wage and information return preparation for 1099-MISC, 1099-INT, 1099-DIV, 1099-R, W-2, 1099-S, 1098-T, 1098, 1099-K, 1099-A, 1099-B, 1099-C, 1099-PATR, 1099-OID and associated transmittals (1096 and W-3 forms).
The W2 electronic delivery feature available inside W2 Mate makes filing W2 forms a breeze. No forms to print, no envelopes to stuff, no paper cuts, no postage and no headache. Just enter employee information, generate W2 electronic file and e-mail.
A free evaluation of W2 Mate 2014 can be downloaded from http://www.W2-Mate.com/ . Customers can purchase the software and receive it instantly.