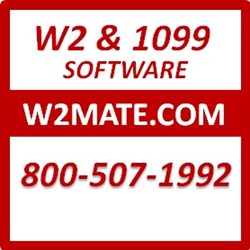 Our W2 Mate software provides one of the most powerful and easy-to-use tools for W-2 / W-3 Filing on the market today.
Chicago, IL (PRWEB) January 02, 2014
Real Business Solutions (http://www.W2Mate.com / 1-800-507-1992) is helping US employers and accounting professionals comply with latest federal and state wage reporting requirements in the 2013 / 2014 tax season. Through W2 Mate 2013, the W2 1099 software offered by the company, users can create password-protected PDF W-2s, print government W-2 / W-3 forms on white paper and file electronically with federal and state tax agencies.
W2 Mate supports the ability to generate secure, password-protected and ready-to-email PDF w2 forms. These PDF W2s can be sent to employees instead of the paper copy. According to the IRS taxpayers are permitted to furnish W2 statements to employees through any electronic means to which the employee consents, including by e-mail. The electronic version of the Form W-2 (PDF file) or Form 1099-MISC (PDF file) generated by W2 Mate contains all required information and complies with applicable government procedures relating to substitute statements to employees / recipients.
Trial download of W2 Mate 2013 is available from http://www.W2Mate.com/download.html . Users can buy the software and receive it instantly.
W2 Mate Software eliminates the need for buying expensive W-2 and W-3 Forms by printing these forms on white paper using a regular printer. W2 Mate can print the following forms on white paper: W-2 Copy A (For Social Security Administration), W-3 (Transmittal of Wage and Tax Statements), W2 Copy B (To Be Filed With Employee's FEDERAL Tax Return), W2 Copy C(For EMPLOYEE'S RECORDS), W2 Copy D(For Employer), W2 Copy 1(For State, City, or Local Tax Department) and W2 Copy 2(To Be Filed With Employee's State, City, or Local Income Tax Return).
W2 Mate supports unlimited W2 electronic filing submissions using the EFW2 format for reporting wages with the federal government. When filing electronically users do not need to file W-3 forms. On the state W2 e-filing side, W2 Mate supports Alabama, Arizona, Arkansas, Colorado, Connecticut, Delaware, District of Columbia, Georgia, Illinois, Kansas, Kentucky, Louisiana, Maine, Maryland, Massachusetts, Michigan, Minnesota, Mississippi, Nebraska, New York, North Carolina, Oklahoma, Oregon, Pennsylvania, South Carolina, Vermont, Virginia, West Virginia and Wisconsin.
W2 Mate also offers support for paper-print and paperless (electronic) wage and information return preparation for 1099-MISC, 1099-INT, 1099-DIV, 1099-R, 1099-S, 1098-T, 1098, 1099-A, 1099-B,\ 1099-C, 1099-PATR, 1099-OID and 1096.
Give W2 Mate a test drive and start saving time and money while processing W2s. Visit
http://www.W2Mate.com/ or call 1-800-507-1992 .