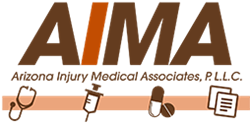 AIMA accepts L&I claims from the state of Washington and provides first class treatment options!
Phoenix, Arizona (PRWEB) April 21, 2015
The top workers compensation clinic in Arizona for pain relief, Arizona Injury Medical Associates PLLC (AIMA for short), is now accepting L&I claims from the state of Washington. This makes it very convenient for those who need the top notch nonoperative care available under a WA state claim.
The Double Board Certified physician at AIMA, Dr. Demitri Adarmes, offers an extensive amount of treatment options, including both medication management and interventional procedures. Treatment options include such cutting edge options as selective nerve root blocks, medial branch blocks and all types of joint injections.
Dr. Adarmes is a Certified ABIME Independent Medical Examiner and offers Impairment Ratings for OWCP, State of AZ and WA Claimants. This also includes Federal Disability Retirement examinations. It can be very difficult for those living in Arizona to receive first rate care under a WA L&I workers compensation claim. AIMA offers that option.
As a top Federal workers compensation clinic, AIMA has seen patients from over a dozen states and is frequently able to decrease pain substantially and increase function while returning patients to work.
In addition to exceling with medical treatments, AIMA also provides expertise in the administrative aspects of L&I claims. This includes extensive documentation of each patient's medical treatment.
To receive treatment with the top workers compensation clinic in Arizona, call AIMA at (480) 347-0941.