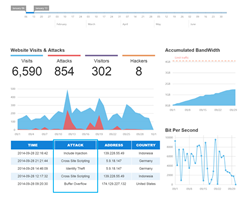 We share Packet's commitment to high performing and high availability infrastructure and are excited to work together to expand our elite, comprehensive approach to security.
Seoul, Korea (PRWEB) February 01, 2017
Cloudbric, an elite cloud-based web security service developed by Penta Security Systems, announced today a partnership with Packet, a leading bare metal cloud provider for developers. The partnership will support Cloudbric's continued expansion into the North American region by bringing its award-winning logic based Web Application Firewall (WAF) technology to a wider range of customers.
A recent State of Application Delivery global customer survey revealed an increased demand for security application services such as WAF, DNSSEC, and DDoS protection due to the rise in the adoption of cloud infrastructures by businesses. As more and more enterprises transition over to cloud infrastructures, working with high-transaction workloads will need the assistance of solution providers like Packet whose dedicated servers avoid performance issues associated with shared cloud environments. However, there is also the security issue at hand, but through partnership with Cloudbric, Packet's clients will now have all-inclusive security at their disposal.
"On top of the simple installation, the flexibility and performance provided by on demand bare-metal are the main forces driving the partnership," said TJ Jung, VP of Product & Technology for Cloudbric. "We share Packet's commitment to high performing and highly available infrastructure and are excited to work together to expand our elite, comprehensive approach to security."
"We built Packet to service the needs of forward-looking companies like Cloudbric, who demand both performance and flexibility, all at competitive prices," said Aaron Welch, SVP of Product. "We're excited to see our customers and the wider market adopt Security-as-a-Service solutions and it's fantastic to partner with the team at Cloudbric on their expansion."
With Penta Security Systems celebrating two decades of IT expertise, 2017 has opened up with numerous projects and partnerships for Cloudbric – its leading Security-as-a-Service offering with a rapidly expanding global clientele.
About Cloudbric
Cloudbric is a cloud-based web security service, offering an award-winning WAF, DDoS protection, and SSL, all in a full-service package. Utilizing Penta Security Systems' patented Logic Analysis Engine to filter malicious website traffic with proven precision, Cloudbric delivers lower false positives than any industry competitor. Please visit http://www.cloudbric.com for more information and direct partnership inquiries to cloudbric(at)pentasecurity(dot)com.
About Packet
Packet is the leading bare metal cloud built for developers. With premium server configurations that provision in eight minutes or less, Packet brings all the automation benefits of the virtualized cloud to bare metal servers – offering the ultimate in performance, portability, and scalability for modern workloads. The company also operates an advanced software-defined network and offers private deployments for enterprise customers.