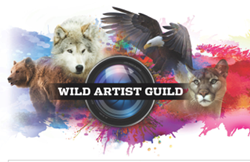 This event is all about bringing people together who care about steering our future in a positive direction.
Portland, Oregon (PRWEB) January 09, 2015
Wild Artist Guild, an extension of the Wolf Education & Research Center, will host the NW Wild Heritage Awards and Benefit Concert at Portland's Leftbank Annex on February 6, where it will recognize three regional organizations dedicated to outreach that demonstrates a profound bond between humans and animals. Each of these organizations will receive financial grants, in addition to a piece of art that has been created by Idaho artist Scott Doying. The event is sponsored in part by Oregon businesses Minam River Lodge, Kidwings.com, Owl Brand Discovery Kits, and Infinity Images.
The Wild Artist Guild will also recognize three individuals who've been identified for excellence in ecology related to journalism, enterprise, and teaching. Each of these individuals will receive a limited edition canvas art by Doying.
The entire event encompasses a full afternoon and evening of activities, including a middle school presentation where student guests will preview the documentary "The Great Wolf Divide: A Predator's Dilemma." Students will then have an opportunity to present questions to the team of biologists and educators with their ASK THE BIOLOGIST outreach.
Early evening presents an opportunity for guests to dine with area experts involved in species conservation and management, event sponsors, and artists. Following the dinner, guests will have the opportunity to hear two short discussions about wolves in the Northwest and preview the Wild Artist Guild Silent Auction, featuring donated art from eight inspiring local artists, including the band Moody Little Sister, who will also play an acoustic set during intermission.
The evening will round out with the presentation of the NW Wild Heritage Awards followed by a Benefit Concert featuring Moody Little Sister.
"This event is all about bringing people together who care about steering our future in a positive direction," said Chris Anderson, president of Wild Arts Gala. "Whether you attend to enjoy the dinner, applaud an award, view the local art or listen to music — you'll be in the presence of our community's inspiring leaders."
For more information about the event prices and to purchase tickets, visit http://www.wildartistguild.org or contact WAG at Lori(dot)Prichard(at)WolfCenter(dot)org or 888-422-1110.
About Wild Artist Guild
Wild Artist Guild is an extension of the Wolf Education and Research Center, a northwest educational nonprofit that operates an Idaho wolf sanctuary and works to create educational messages about top predators and their essential place in ecosystems. WAG is a conduit for artists who desire to leverage their creative skills toward positive messaging campaigns that serve to unite the public in community, inspiration, and purpose. More information can be found at http://www.wildartistguild.org and http://www.wolfcenter.org.