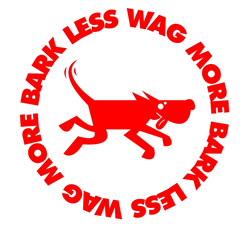 Portland, OR (PRWEB) February 26, 2014
True Dogs , LLC, the official Licensee of Wag More Bark Less branded lifestyle products, is pleased to announce its Kickstarter campaign to fund the development of innovative new environmentally friendly dog toys. Wag More Bark Less is a lifestyle brand for dog lovers whose goal is to keep you, your dog, and the planet smiling.
True Dogs, LLC launched its first Wag More Bark Less collection in October 2013, offering a range of eco-friendly dog supplies including natural rubber dog toys and collars and leashes made from recycled plastic bottles. Due to strong customer demand, True Dogs, LLC has begun development of additional interactive natural rubber toys that are both healthy and engaging for dogs. Proceeds from the Kickstarter campaign will be used to fund the development of these toys.
Launched in 2013 by True Dogs, LLC under license from Cloud Star Corp, the Wag More Bark Less brand has received significant attention from a wide range of retailers. Company founder, Adam Baker, explains that "Wag More Bark Less is a lifestyle brand for dog lovers rather than a pet supply brand for dogs. Our relationship with our dogs has changed dramatically over the last few decades" Baker said. "They're more than our best friends. They're family, and Wag More Bark Less is a brand that lets us express our dog love through products as diverse as coffee mugs and tees to dog supplies and home products."
Wag More Bark Less dog toys are made from natural latex rubber which is non-toxic, biodegradable, renewable, and sustainably harvested. Some of the new toys include the "Slobberdome" which functions as a ball, a treat holder, and a chew toy. The "Bon Bon" is an oversized toy for bigger dogs and features a squeaker and a cavity for treats.
The Kickstarter funding goal for Wag More Bark Less is $10,000. The campaign can be found at:
https://www.kickstarter.com/projects/1170882915/wag-more-bark-less-new-designs