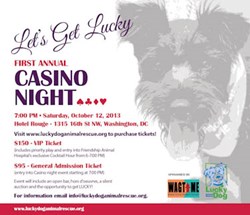 We are proud to be a sponsor of Lucky Dog Animal Rescue's Casino Night and look forward learning about the literally hundreds of dogs this event will help save.
Washington, DC (PRWEB) October 07, 2013
Wagtime Pet Spa & Boutique, the Washington, DC regions premier doggie daycare, boarding and grooming facility is proud to announce its ongoing support of homeless, abused and neglected animals. As the official sponsor of the "Valet Barking" service for the upcoming Let's Get Lucky, Lucky Dog Animal Rescue's annual Casino Night fundraiser on October 12th from 7:00 p.m. to 10:00 p.m. at Hotel Rouge, attendees will be able to arrive in style, directing their support to the mission of the charity.
Wagtime LLC, owned and operated by husband and wife team, Lisa Schreiber and Ofer Khal, began in 2001 with just a small dog walking business. In 2007, they opened their first multi-million dollar facility, Wagtime Pet Spa & Boutique, in downtown Washington, DC and in 2013 opened their second large scale facility, Wagtime Too, by the Navy Yard. Through their fostering efforts with different area animal rescue organizations, Wagtime helps annually more than 500 dogs to find forever homes.
"We are thrilled to build on our efforts to help homeless animals and support this great cause in such an impactful way, allowing the funds raised to go directly to the mission of the organization," said Wagtime's owner, Lisa Schreiber.
Tickets are still available for Lucky Dog Animal Rescue's Casino Night. The event includes: craps, roulette, blackjack, Caribbean stud, the money wheel, a silent auction, and raffle. There will be an open bar and hors d'oeuvres served throughout the evening. Tickets are $95 for regular admission and $150 for V.I.P. Admission. To purchase tickets, adopt a Lucky Dog or Cat, or to learn more about becoming a foster or volunteer, please visit http://www.luckydoganimalrescue.org.