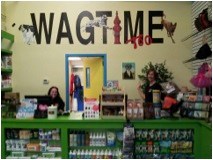 Wagtime Too offers the same 24/7 personalized care to pets and their families that our clients have enjoyed for years at Wagtime.
Washington, DC (PRWEB) September 05, 2013
Wagtime Pet Spa & Boutique, the Washington, DC regions premier doggie daycare, boarding and grooming facility, has opened its second location in southeast DC, Wagtime Too. Despite the unstable economic climate, the pet care industry is one of the only to grow since 2008. In 2012, the industry saw $52 billion in revenue, up from $48 billion in 2011 and projected to grow to $62 billion by 2015 (statistics from the American Veterinary Medical Association).
Wagtime LLC, owned and operated by husband and wife team, Lisa Schreiber and Ofer Khal, began in 2001 with just a small dog walking business, then in 2007 opened its first multimillion dollar facility, Wagtime Pet Spa & Boutique, in downtown Washington, DC.
Talk for the second location began as the success mounted in the downtown location; a waiting list formed with adoring dog owners competing for a coveted spot for their beloved pooch in the doggie daycare. "We realized our services were in demand and not wanting to risk crowding in our flagship location, where we pride ourselves on 24/7 personalized care for our four-legged clients, we turned our sights on the booming southeast corridor as the ideal location to expand our brand and build a second large scale facility." – Lisa Schreiber.
In addition to catering to the who's who of four-legged canines, Wagtime's socially responsible business model also opens its luxurious facilities to more than 500 rescue dogs a year. Working with a number of different area rescue organizations, Wagtime takes in homeless dogs from over-crowded shelters, feeds, socializes, grooms and finds forever loving homes for them. The expansion of Wagtime has allowed Wagtime to potentially double its life-saving efforts in the coming years.
****
Wagtime Pet Spa & Boutique was established in 2001 with the insight, innovation & vision of owners Lisa Schreiber and Ofer Khal. Owner presence and hands-on experience are combined with a professionally trained and compassionate staff to offer Wagtime's friendly neighborhood pet boutiques the highest standards in pet care and customer service. The newly renovated facility, located in N.W. Washington, D.C. offers a variety of services including: cage-free doggie daycare & boarding, professional pet grooming, home dog walking, feline care and a pet pick-up and delivery service. The pet boutique carry's a variety of organic, nutritional foods and treats, great toys, stylish and functional carriers and chic fashions that have unconditional style and meet all of your pet's essential requirements. Wagtime fosters dogs for local rescue groups and can provide help and advice when adopting a dog.