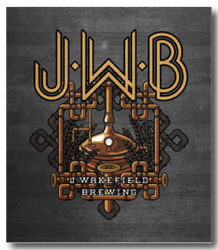 With just a few days to go, there are still some fantastic perks available.
Miami, FL (PRWEB) October 23, 2013
J Wakefield Brewing's crowdfunding campaign, one of the most popular craft beer crowdfunding campaigns in history, will end in less than 48 hours. Craft beer lovers have shown amazing support for Wakefield's new brewery, partially in response to the highly sought after perks that Wakefield has offered. With just a few days to go, there are still some fantastic perks available.
Here are examples of a few of the perks that will be available until Friday, October 25th:

An all expenses paid trip, for two, to the 2014 Great American Beer Festival in Denver, CO.
A 750mL "Donor Party" specialty brew (one-off and brewed at the party).
Dinner with some of Miami's hottest celebrity chefs.
Brew a special collaboration (to add to your portfolio) with both Cigar City Brewing's Wayne Wambles and JWB.
Experience a Multi-National Collaboration and brew a very special collaboration beer with JWB and Jeppe Jarnit-Bjergsø, the man behind Evil Twin Brewing in Denmark.
Brew a Seasonal Batch with J Wakefield Brewing (help create and brew the batch).
Enjoy a private 5-Course Dinner prepared by Johnathan Wakefield himself, each course paired with a JWB beer.
Receive a JWB "Swag" pack with a Work Shirt, Glass, Sticker and Hat.
One of the coveted Contributor Party Tickets to celebrate the opening of J Wakefield Brewing.
The craft beer crowd has shown incredible support for the J Wakefield Brewing crowdfunding campaign and the opening of the brewery.
Johnathan Wakefield has been in Florida making unique craft beers since 2007, when it began with a simple home-brewing kit that was purchased and installed in a garage. There was no formal training, just culinary instincts and passion for the art of brew. For three years recipes were designed, fermented, and enjoyed by friends and family. Finally came a day of reckoning when this small garage brewer was invited to Tampa, Florida to brew his concoctions in a professional environment and on a large scale. The results speak for themselves. Johnathan's brews quickly began to garner the attention of craft beer aficionados and earned two of the top five spots in the 2013 World Rankings. Now Johnathan is going to share his passion for great beer and bring professional craft beer to a new level in Miami.
Craft beer enthusiasts can be a part of this once in a lifetime event by visiting the J Wakefield Brewing crowdfunding campaign.
About The Companies
CrowdBrewed.com is a donation / reward crowdfunding platform for craft brewers and industry affiliates who want to raise money for their breweries, to add new beers to their catalog, pitch a product and to spread the word to the "crowd". Brewers and industry affiliates can create fundraising campaigns that tell their story and pitch their campaign to a "crowd" of donors in exchange for a reward or product. CrowdBrewed is also a place to discover new beers, learn about brewing and show your passion for the industry by getting involved. USA TODAY has touted the company as "the first-ever crowdfunding site designed specifically for craft beer entrepreneurs."
Universal Media Consultants is an advertising and marketing agency that provides crowdfunding promotion. Philip Cardwell, the company's Founder, is highly active in the crowdfunding space and is providing advertising and marketing services to a wide range of crowdfunding projects at no initial costs to the client.