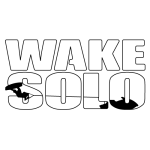 This product is a lot of fun and can be used with any of the major PWC brands," said Justin Merrill, President of Wake Solo, Inc.
San Diego, CA (PRWEB) January 29, 2015
Wake Solo's president Justin Merrill is proud to announce that San Diego Wake Solo Inc, has filed a patent for its product that allows one to Wakeboard behind a Jet Ski (Personal Water Craft or PWC) without a driver.
Towed Water, Sports such as wake boarding, water skiing, knee-boarding, wake skating, hydro-foil skiing and tubing, are very popular using Jet Ski's, Sea Doo's and Wave Runners.
The problem though is that one is not able to go out and enjoy tow sports by themselves solo.
Wake Solo's product solves that problem without the need for a physical "driver" of the PWC giving one the ability to control the boat from the tow rope itself.
"This product is a lot of fun and can be used with any of the major PWC brands," said Justin Merrill, President of Wake Solo, Inc.
"I invented the product so I could get more time on the water wakeboarding when I couldn't round up friends to drive and spot me from the boat. I saw a market for the product when I realized that everyone that I talked to about it wanted to know how they could get one."
The product is being marketed under the trade name "Wake Solo" for about $1,000 suggested retail price. The closest product to Wake Solo is between $7500 and $17,000 and requires an expensive separate boat rather than one's own PWC.
The Personal Watercraft industry is a multi-billion dollar industry. The major PWC brands include Jet Ski, Wave Runner and Sea-Doo and are sold all over the world.
The Company is currently testing its second-generation prototype system, and the product is now ready to move into manufacturing and can be pre-ordered starting now.
One can learn more and register to win one of the first off the manufacturing line by visiting http://facebook.com/wakesolo
About Justin Merrill of Wake Solo
Justin Merrill, CEO of Wake Solo, Inc. is a native San Diegan, who epitomizes the adrenaline junky of both remote control vehicles and gadgets, as well as most forms of motorsport. Justin's life long hobbies include everything from para-sailing to motorcycles and sand rails to high speed RC boats and stunt planes. He is a self-taught engineer that can take just about any motor apart and rebuild it and is an encyclopedia of knowledge in the RC world. His passion, for wakeboarding married with high tech RC solutions... gave birth to the Wake Solos product. Having built two working prototypes, the Company is now working exclusively with Clarity Design for the design engineering and manufacturing of the consumer product scheduled for release in the summer of 2015. Justin resides in San Diego with his wife and newborn son.
Contact:
Justin Merrill, President
info (at) wakesolo (dot) com
Wake Solo, Inc.
5161 Providence Road
San Diego California 92117