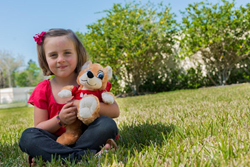 Jacksonville, Florida (PRWEB) May 30, 2014
Customers can make a make a $10 donation to Wolfson Children's Hospital at a local Walgreens location in June and receive a Wolfie plush toy. Wolfie A. Wolf is Wolfson Children's Hospital's official mascot.
Walgreens stores in Jacksonville, St. Augustine, Orange Park, Middleburg, Green Cove Springs, Lake City, Brunswick, Waycross, Jessup and Kingsland are participating. This is the third year Walgreens has held this fundraiser to benefit Wolfson Children's. Last year's promotion raised more than $45,000 for Wolfson Children's Hospital.
Also during June, everyone who makes a $1, $5 or $10 donation to Wolfson Children's Hospital at a Walgreens location will receive a thank-you card to take home, featuring photos and stories of Wolfson Children's patients.
About Wolfie A. Wolf:
In 2011 Wolfson Children's Hospital introduced the hospital mascot, Wolfie.
Wolfie grew up in Jacksonville, NC, where he lived with his parents, little brother and sister. Their den was in a forest along the New River. Wolfie was a happy, outgoing cub, making friends with neighboring red wolf cubs and the other animals, even the little bunnies. He loved being a big brother and took good care of his siblings. He was proud of his home and always pitched in when others needed help, earning the nickname "Good Little Wolfie." When he heard about the trouble wildlife creatures were having in the Okefenokee Swamp because of the forest fires, he wanted to help. With his parents' permission, he made the long journey from Jacksonville, NC, to north Florida. Wolfie worked tirelessly, helping care for the sick and injured animals while fire fighters battled the fire. One day, Wolfie got stuck under a fallen tree, which collapsed in the fire. A rescue worker saved him and took him to Wolfson Children's Hospital, where the doctors and nurses kindly cared for his broken leg.
While he was staying at Wolfson Children's, Wolfie was happy to learn he was in Jacksonville, FL along the St. Johns River. The new city reminded him of home, and everyone was so friendly and kind – he felt like he was with his own family. Now healthy and back on his paws, Wolfie decided he'd like to stay at the hospital and help other kids. Hospital President Michael D. Aubin, Chief Medical Officer Jerry Bridgham, MD, and the others all welcomed Wolfie to stay, so he sent a note home to his parents and they agreed Wolfson Children's Hospital would be the best place for "Good Little Wolfie" to live and help other children.
Wolfie Facts:

Type of wolf: Red wolf cub
Nickname: Good Little Wolfie
Birthday: May 22
Age: 7
Favorite color: Red
Favorite Food: Berries and chicken fingers. He also loves the pudding and strawberry yogurt the nurses serve.
Hobbies: Running, swimming, reading
Born: Jacksonville, NC
Home: Jacksonville, FL
###
About Wolfson Children's Hospital
Wolfson Children's Hospital in Jacksonville, Florida, serves as our region's pediatric referral center and only hospital just for kids. The 213-bed, patient- and family-centered hospital features an environment filled with bright colors, warm smiles and the latest children's medical technology. At Wolfson Children's, nationally recognized pediatric specialists representing nearly every medical and surgical specialty work with pediatricians to provide care for children of all ages with congenital heart conditions, cancer, neurological disorders, orthopaedic conditions, behavioral health disorders, and more. The hospital is staffed by pediatric nurses and other healthcare professionals specially trained to work with children. Wolfson Children's pediatric partners include Nemours Children's Clinic, the University of Florida Jacksonville, and Mayo Clinic Florida. For additional information, please visit wolfsonchildrens.org.