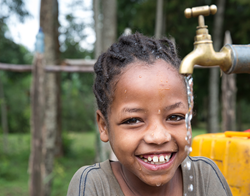 San Diego, CA (PRWEB) April 21, 2016
PCI (Project Concern International) is raising awareness about the global water crisis by hosting its annual Walk for Water 5K this Sunday at Tecolote Shores. Participants are invited to experience the journey millions of women and children around the world make every day to provide clean water for their families by walking up to 5 kilometers with buckets of water. As San Diego struggles with its own water crisis, this event highlights the global crisis of clean water, and water used in the Walk will be taken and returned to the Bay.
Rachel Church and Arya Tayebi are serving as the chair of this year's Walk for Water and Mark Mullen from NBC 7 San Diego will serve as the Master of Ceremonies.
Funds raised will support PCI's water and sanitation programs and efforts to end poverty worldwide.
This event is open to the press, and interested reporters and outlets must RSVP.
What:
PCI's annual Walk for Water 5K to raise awareness about the global water crisis.
Who:

Rachel Church, Senior high school student, La Jolla Country Day School
Arya Tayebi, Senior high school student, The Bishop's School
George Guimaraes, President and CEO, PCI
Mark O'Donnell, Chief Operating Officer, PCI
When:
April 24, 2016
9:00 a.m. – 11:00 a.m.
Where:
Tecolote Shores at Mission Bay Park
1600 E Mission Bay Dr.
San Diego, CA 92109
About PCI:
PCI's mission is to empower people to enhance health, end hunger and overcome hardship. PCI's vision is the most vulnerable people in the world will have the power to lift themselves out of poverty and to create vital, healthy lives for their families and communities now and for the future. For more information, visit http://www.pciglobal.org.
###