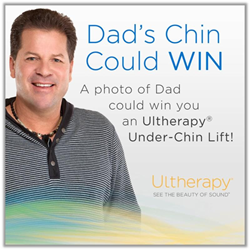 Dad's Chin Could Win!
Washington, DC (PRWEB) June 05, 2014
Rondi Walker, MD, founder of Walker Plastic Surgery in Washington, DC, is holding a Facebook contest for patients and their friends to give Dad a free Ultherapy procedure this month. The Ultherapy procedure is the only treatment FDA-cleared for a non-invasive neck, eyebrow and under-chin lift.
Dubbed "Dad's Chin Could Win!," the Ultherapy procedure will go to a Facebook fan that uploads a photo of his or her dad describing why he would benefit from this complimentary service.
This procedure is the only non-surgical, non-invasive treatment that uses ultrasound and the body's own natural healing process to lift and tighten loose skin on the eyebrow, neck, and under the chin. Ultherapy uses the safe, time-tested energy of ultrasound to stimulate the deep structural support layers of the skin—including those typically addressed in a surgical facelift—without disturbing the surface of the skin.
"Ultherapy is an appealing choice for patients because of its attractive, non-invasive way of delivering noticeable results," stated Dr. Walker, adding, "This is the perfect Father's Day gift for kids who want to provide their parent with a way to age gracefully, and maintain a natural, youthful look."
Results will unfold over the course of 2-3 months and some patients have reported continued improvement for up to six months, including lifting of the skin on the neck, under the chin and on the brow. Ultherapy is an inviting alternative for those who are not yet ready for surgery, though ultrasound does not replicate the results of surgery.
For more information, like Dr. Walker's Facebook page.
About Dr. Walker
Dr. Walker received her undergraduate and medical degree at the University of Washington Medical School in Seattle, Washington where she graduated with Thesis Honors. After being awarded an International College of Surgeons Scholarship at the University of Oxford School of Medicine, Dr. Walker completed her residency in otolaryngology and general surgery at Yale University School of Medicine. She continued on to complete her residency in plastic surgery at Georgetown University Medical School. Dr. Walker completed a fellowship in craniofacial surgery at the Hopital Necker in Paris, France with Docteur Daniel Marchac. Dr. Walker has been in private practice since 1995. She is an associate clinical professor of surgery at Georgetown University.
###