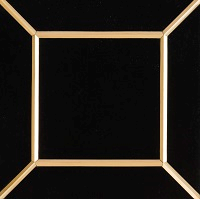 LOS ANGELES (PRWEB) June 29, 2017
Art Deco design first appeared in the early 1920s and roared to popularity during the Jazz Age—a period of economic prosperity that launched lavish hotels, luxurious restaurants and vibrant music clubs in New York and Paris. Drawing inspiration from this cultural era, Walker Zanger's all-new Ellington collection encapsulates the geometric elegance of Art Deco architecture with cues from the organic curves of Art Nouveau to create a timeless stone tile inlaid with metal.
"Art Deco design employed metalwork in brass and chrome along with marble to create interiors of sophisticated luxury," said Jared Becker, Walker Zanger Vice President of Design and Marketing. "Walker Zanger interpreted these influences for a contemporary audience, allowing marble and limestone inlaid with metallics to take center stage."
TWEET THIS: New @WalkerZanger Ellington collection uses #stone w/ metal inlay to celebrate #ArtDeco http://bit.ly/WZNewEllington
While the design "Swing" is an obvious reference to rhythmic movement, "Empire" is directly connected to New York's moniker as The Empire State and uses dimensional brass inlays to recall the look of a New York skyscraper lobby at the heart of the Jazz Age.
Other patterns identify with signature hotels and destinations of the time where the likes of Duke Ellington entertained. For example, the hexagonal "Savoy" is not only named after the famed Harlem nightspot (the Savoy Ballroom in New York City), but also a reference to the jazz standard "Stompin' At The Savoy." The "Carlyle" pattern celebrates the Roman Grille design and is named after the Kimpton Carlyle Hotel Dupont Circle in Washington, D.C., and the starbursts of "Pierre" reference The Pierre hotel in New York during the '20s and '30s.
Lastly, the Ellington collection offers a sextet of patterns by highlighting four stone options (Pearl, Ebony, Carrara and Cinder) and three metals (brass, copper and stainless steel) to pay homage to the influential and elegant design era.
Explore the inspiration and designs of Ellington by visiting its Pinterest board: http://bit.ly/WZEllingtonPin.
About Walker Zanger
Walker Zanger, the world's most comprehensive stone and tile company, combines traditional tile-making techniques with a modern sophistication that transcends any singular design style. A leading choice for design professionals and consumers, Walker Zanger natural stone and tile products can be found in luxury homes, trendy boutiques, lavish spas and resorts, famed museums and fine restaurants around the globe. Walker Zanger is available through 14 beautiful showrooms and more than 200 authorized dealers nationwide.