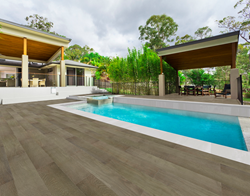 Los Angeles, CA (PRWEB) July 13, 2017
The design aesthetic of wood is timeless, yet it lacks durability and longevity, especially near water or in high-traffic areas. The new Grain collection from Walker Zanger provides a solution by replicating the look of wood, yet offering the maintenance-free durability and versatility of porcelain. Grain encapsulates contemporary European style through clean lines and natural wood grains, including an anti-slip option for outdoor use.
TWEET THIS: Brand new Grain collection by @WalkerZanger has contemporary European wood look with durability of #porcelain. http://bit.ly/WZGrain
"Porcelain is trending at the forefront of the home décor industry since it has the ability to mimic other materials," said Jared Becker, Walker Zanger Vice President of Design and Marketing. "By using our porcelain Grain tile, designers and homeowners can bring the wood aesthetic into their high-end remodels with a luxurious and durable touch."
Made in Spain with the latest innovations in digital glazing technology, this collection utilizes a subtle variation in four wood tones per color, as well as natural grain and texture, to create the look and feel of real finished wood.
For residential and commercial settings, the tile is ideal for interior floors and walls, including heavy pedestrian traffic areas. While Grain spans four colors (Anthracite, Beige, Brown and Ochre) and is available in wide planks or chevrons, the Brown color has a notable anti-slip option since the darker hue blends well with the added finish.
"The anti-slip finish makes it an exciting new choice for outdoor use, especially used poolside," said Becker. "It's a combination of form and function that has always been desired for safety purposes."
For more information about the Grain collection, please visit http://bit.ly/WZGrain.
About Walker Zanger
Walker Zanger, the world's most comprehensive stone and tile company, combines traditional tile-making techniques with a modern sophistication that transcends any singular design style. A leading choice for design professionals and consumers, Walker Zanger natural stone and tile products can be found in luxury homes, trendy boutiques, lavish spas and resorts, famed museums and fine restaurants around the globe. Walker Zanger is available through 14 beautiful showrooms and more than 200 authorized dealers nationwide.