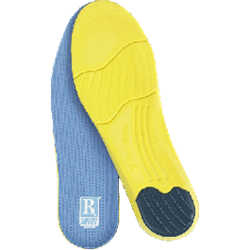 Foot odor is one of life's little miseries, many things are more serious but few are more annoying.
Chicago, IL (PRWEB) February 28, 2016
RxSorbo, a leading provider of top-rated shoe insoles, is pleased to announce the availability of a new informational page on foot odor, including a guide to how walking shoe insoles can be employed to treat the problem of stinky feet and other unpleasant foot maladies.
"Foot odor is one of life's little miseries, many things are more serious but few are more annoying," commented Rj Yozwiak, Manager of RxSorbo. "Modern life requires that our feet to be confined in shoes most of the day, and foot odor in a side-affect of that. The good news is that there are steps one can take to combat the problem, such as proper utilization of walking shoe insoles."
FINDING THE BEST SHOE INSOLES FOR FOOT ODOR
Choosing the right shoe insoles for foot odor is key. Following a simple daily foot hygiene routine is usually effective in dealing with sweaty feet. This may include washing your feet with antibacterial soap, applying cream and/or using an absorbent foot powder and not wearing the same footwear everyday, but rotating what you wear so shoes have a chance to dry out.
To learn more about the insoles and foot odor, please visit the newly updated page at http://www.rxsorbo.com/rx-blog/foot-ailments-foot-odor. Alternatively, interested parties can shop online at https://www.amazon.com/s?me=A3JAYEX82BUHD7 for shoe insoles manufactured by the company.
MORE ON THE UPDATED FOOT ODOR AND SHOE INSOLES PAGE
The new informational page at the RxSorbo website explains that foot odor (or "bromodosis" to use the Latin medical term) is a common problem that can happen any time of the year. Most people have about 250,000 sweat glands which can produce up to a pint of moisture a day. Poor ventilation in shoes can provide an ideal environment for bacterial growth, that cause the unpleasant smells. Stress, medication and poor hygiene can also be reasons. There are several possible treatments to help mitigate foot odor. Ventilated shoes with good shoe insoles may be one remedy.
Anyone who believes he or she suffers from severe or persistent foot odor, should speak to a doctor first. It is possible that foot odor may be a symptom for other issues. Only a medical professional will be able to accurately assess and provide a comprehensive diagnosis for foot odor.
About RxSorbo
RxSorbo is the source for Sorbothane® Shoe insoles (shoe inserts). Sorbothane® uniquely absorbs up to 94.7% of impact shock, and makes for quality shoe insoles for many conditions. People come to RxSorbo for shoe insoles for foot maladies from Plantar Fasciitis to Morton's Neuroma to metatarsalgia to many other conditions. From Shoe inserts for running to top-rated insoles for dress shoes to gym shoes, reviews of the company's shoe insoles prove they are among the best shoe insoles.
RxSorbo
http://www.rxsorbo.com/