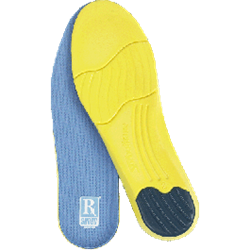 Our customers come to us confused regarding the situation of walking shoe insole vs. inserts.
Los Angeles, CA (PRWEB) January 28, 2015
RxSorbo, a leading online retailer of top-rated shoe insoles, is pleased to announce the publication of an informative blog post which demystifies the issue of walking shoe insole vs. inserts.
"Our customers come to us confused regarding the situation of walking shoe insole vs. inserts, and some think that their might be two separate products they have to purchase." explained Rj Yozwiak, Manager of RxSorbo. "We are happy to set their minds at ease regarding this. But in order to have this information more widely disseminated, and nip the confusion in the bud, we have just published informative blog post to make the facts of the situation clear."
To learn more about the insoles, please visit http://www.rxsorbo.com/blog/?p=532. To browse available insoles for walking, one can visit the following URL: http://www.rxsorbo.com/insoles/walking/. There, one can browse the company's classic heel pads, classic insoles, and the all whole line of walking sole insoles.
Sorbothane: The Ultimate Walking Shoe Insole or Walking Shoe Insert
As Shakespeare said, "That which we call a rose by any other name would smell as sweet." He meant, of course, that the name itself is not that important. Similarly, whether a person is looking for a walking shoe insert or a walking shoe insole, the reality is that top-quality insoles are what makes a great walking experience.
Developed by a Materials Scientist to mimic human flesh - Sorbothane® is a one-of-a-kind visco elastic polymer. 100% unique - Sorbothane® is a solid that naturally "flows" like a liquid - Sorbothane® absorbs impact shock and provides comfort better than any other insole material available today.
The company has found that once a customer tries the insoles, he or she will rarely go back to older, less quality products. Indeed, the product is often used by competitive walkers.
About RxSorbo
RxSorbo is the source for Sorbothane® Shoe insoles (shoe inserts). Sorbothane® uniquely absorbs up to 94.7% of impact shock, and makes for quality shoe insoles for many conditions. People come to RxSorbo for shoe insoles for foot maladies from Plantar Fasciitis to Morton's Neuroma to metatarsalgia to many other conditions. From Shoe inserts for running to top-rated insoles for dress shoes to gym shoes, reviews of the company's shoe insoles prove they are among the best shoe insoles.
RxSorbo
http://www.rxsorbo.com/