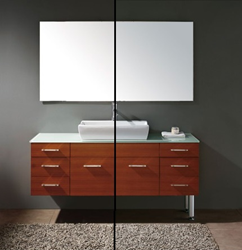 Having the option to add legs to a wall mounted bathroom vanity both makes it possible to install the vanity in a less than ideal location, and opens up a little room to have fun with unusual design layouts.
(PRWEB) April 27, 2014
HomeThangs.com – the Online Home Improvement Store has made their goal to deliver the right product to the consumer. With that in mind, shopping and home design tips, as well as special product selections are being introduced.
Wall mounted bathroom vanities are prized for their distinctive modern appearance. So it can be a bit confusing when the vanity arrives with an optional set of legs. But simply providing the option whether or not to install the legs makes for an interesting choice between two very distinctive styles, each with their own unique advantages and drawbacks. HomeThangs.com has introduced a guide to a few pros and cons to consider.
The most obvious benefit of wall mounted bathroom vanities is that they're visually striking. When paired with a legs-free design, the stark, simple lines of a modern bathroom vanity have a gorgeous, gravity defying appearance that adds a uniquely modern sense of elegance to a bathroom. Adding legs back onto the vanity ruins this effect entirely, breaking the illusion that the vanity is floating and giving it a much more ordinary, less daring look.
On the flip side, the greatest advantage of adding those legs back on is equally simple: the vanity doesn't have to be mounted to the wall. Wall mounting a bathroom vanity can be difficult and complicated for a number of reasons, from the placement of the wall studs to the sheer weight of the vanity. A vanity with good, sturdy legs negates all those concerns, because it can simply be set in place like any other piece of furniture, no complicated installation needed.
It's also worth noting that the actual placement of the legs can be visually interesting in its own regard. While simply placing one leg at each of the traditional four corners isn't particularly inspired, placing them in the middle, in odd numbers, excessive numbers, or in some other unusual (and not necessarily load-bearing) way can actually enhance the illusion of the vanity's weightlessness, or make it even more strikingly unconventional looking.
On some vanities, having legs that can be added or removed – or particularly ones that can be adjusted in height – is a must-have if the vanity will be paired with a vessel sink. That's because vessel sinks alter the overall height of the vanity, and traditional legs can leave the whole vanity a little bit too high to use. Adjustable legs can be raised or lowered to compensate for the difference, ensuring that the vanity will work with just about any sink.
Wall mounted bathroom vanities are even more versatile in this regard, as they can be installed at any height on the wall. This makes it possible not only to accommodate for a taller sink, but also to custom match the height of the vanity to the height of the people using it, whether they're particularly tall or particularly small. While the installation is obviously more complicated (and permanent), the results are also more precise and personalized.
All that said, even when sold under different names or item listings, bathroom vanities with legs that can be added or removed interchangeably are really the exact same bathroom vanity. That means that, appearance and installation notwithstanding, there isn't any difference between one item and the next. So practical restrictions aside, having an extra set of legs is simply an opportunity to get a little creative with the vanity's design.
For more information, check out the full article here, and find more great modern designs from James Martin Furniture.
HomeThangs.com is not only a home improvement superstore, it also provides expert design tips and a comprehensive shopping guide, taking the ideas from professional interior designers, and offering tips to the consumers on how to pick the products to best suit their needs.