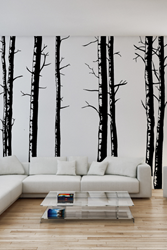 When WALLTAT products are shared on any social media platform, it means we've hit the mark in relevance and variety.
Chicago, IL (PRWEB) April 02, 2014
WALLTAT celebrated surpassing 20,000 Facebook Likes by extending a 20% OFF sale that lasts through April 6, 2014. In addition to the 'Facebook Celebration Sale' WALLTAT launched the year round "Thank You $hop" where selected items are 30% OFF exclusively through the WALLTAT Facebook page. Founder, Jordan Guide expressed appreciation and excitement for the milestone of page likes and related success of her newly launched Wall Decals collections.
"Social media users are becoming more selective in what they like, pin, plus and tweet because they know it reflects on them personally, as a consumer. When WALLTAT products are shared on any social media platform, it means we've hit the mark in relevance and variety," said the founder.
The latest collection spans multiple categories and themes for all ages and areas of the home or workplace. Guide, an award winning Chicago Interior Designer has a knack for scale, and offers all of her designs in five size options to best fit the decor project. At the celebration event, she shared some of her favorite life-size designs that included: Birch Trees, Birds in Flight, Synergy, Paparazzi, Liquid Abstract, Nao Woman, Rock Star Solo, Construction Site, Baroque Molding, Shoji Screen and Japanese Maple.
The event also highlighted fun and inspiring designs, patterns and sets that make the perfect wall art for the baby nursery, kids room decals, living areas, bedrooms, bathrooms, recreational rooms, basements, offices and boutiques. WALLTAT's extensive collection of Glass Decals for windows, partitions and mirrors as well as Chrome/Reflective Wall Decals that have similar characteristics to that of a mirror, allowing light and colors within a room to reflect off of the chrome specialty vinyl.
Last fall WALLTAT released iDecal a Wall Art App for iPhone and other iOS Devices that allows customers to visualize products prior to purchase. "The app allows customers to connect with our products like never before. I am always impressed by the endless imagination of our customers," added Guide. Customers can also obtain year round discounts by sharing their iDecal creations using Facebook or Twitter.
For those that are new to wall decals, the WALLTAT YouTube Channel is a great resource for DIY demonstrations. "Within every product page there is a quick Wall Decal Installation Video to demonstrate the peel and stick ease of our DIY Wall Decals," said Guide.
WALLTAT is an online retailer of custom made-to-order alternative wall art decals for interior use. Founded in 2008 by Chicago based Interior Designer Jordan Guide, WALLTAT proudly designs and manufactures all products in the USA. For more information, please contact us at 888-WALLTAT or at the information provided above.