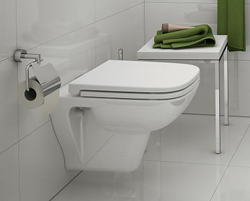 Wall mounted toilets take up significantly less space than traditional toilets, and come equipped with many eco-friendly features, like dual-flush controls and uniquely designed bowls that help further reduce water consumption.
(PRWEB) March 09, 2015
HomeThangs.com – the Online Home Improvement Store has made their goal to deliver the right product to the consumer. With that in mind, shopping and home design tips, as well as special product selections are being introduced.
For the last hundred years or so, toilet design has stayed pretty much the same, both in terms of appearance and functionality. But recent design innovations have allowed designers to break that old-fashioned mold and start making more unique and unusual toilet designs. HomeThangs.com has introduced a simple guide to one of the most significant new innovations: wall mounted toilets.
Wall mounted toilets abandon the traditional floor mounted toilet design completely, concealing the toilet tank and drain pipes and mounting the toilet bowl directly to the wall. The result is a simplified, streamlined toilet that's much more compact and efficient than more traditional designs. With the tanks effectively removed from the bathroom, wall mounted toilets sit closer to the wall and are much narrower, which makes them more flexible in terms of installation. Since they don't have bases, they're also much easier to clean around and under than traditional toilets. Wall mounted toilets are, admittedly, more difficult to install – particularly when they're replacing a traditional toilet – but they aren't much more difficult to maintain, as the panel with buttons that control the toilet flushing can easily be removed to access the toilet tank inside the wall. As an added bonus, they also typically use less water than traditional toilets, too.
For a more in-depth look at wall mounted toilets, check out the full article here.
HomeThangs.com is not only a home improvement superstore, it also provides expert design tips and a comprehensive shopping guide, taking the ideas from professional interior designers, and offering tips to the consumers on how to pick the products to best suit their needs.