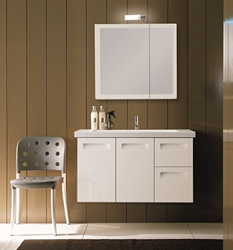 Wall mounted bathroom vanities may not have the same quantity of storage that a more traditional vanity would, but the storage space they do have tends to be more efficient and better organized, which is ideal for a small bathroom.
(PRWEB) August 26, 2014
HomeThangs.com – the Online Home Improvement Store – has made their goal to deliver the right product to the consumer. With that in mind, shopping and home design tips as well as special product selections are being introduced.
Simplicity is the key to designing a small bathroom, both in terms of aesthetics and functionality. When there isn't much room to go around, it's important to choose furniture and fixtures that are compact and efficient, but also ones that have a simple style that won't make a small bathroom feel even more crowded. HomeThangs.com has introduced a guide to wall mounted bathroom vanities, which are a perfect fit on both counts for their streamlined designs and understated style.
The biggest advantage that wall mounted bathroom vanities offer in a small bathroom is their size, which is often significantly smaller than a conventional small bathroom vanity, both in terms of width, depth, and height. Because they don't have to sit on the floor, they can take up even less physical space, which gives a small bathroom a little extra breathing room. Like many other types of wall mounted storage, from simple shelves or cabinets to more unusual options like wall hung toilets, hanging the vanity on the wall is simply a practical space saving option.
But wall mounted bathroom vanities are visually compact as well. Because they sit several inches off the floor and don't have legs, they're surrounded by white space, which gives the impression that there's a lot more room around them than there actually is. In a small bathroom, conventional bathroom vanities will almost always butt up against at least one wall in addition to the floor, which means that even a relatively small vanity can dominate a small bathroom. The little extra wiggle room provided by a wall hung vanity creates an entirely different impression, often in the same amount of space.
Some would argue that those few inches between the bottom of the vanity and the floor is wasted space or a sacrifice of potential storage. But while wall mounted bathroom vanities don't have the same quantity of storage that a more traditional vanity would, the storage space they do have tends to be of a much higher quality. Well sorted drawers and more accessible cabinets are hallmarks of this type of vanity, which often makes them more practical for a small bathroom.
Most wall mounted bathroom vanities are also fairly modern in design, with very simple, straightforward lines and little or no ornamentation. With few exceptions, most wall mounted vanities are simple and square or rectangular, with sleek modern hardware and unembellished slab style cabinet doors. What that means is that there's nothing about these vanities to distract the eye, so their impact on the room is diminished, which can make the whole space feel less cluttered.
That said, wall mounted bathroom vanities can also make for a striking statement piece. While a white vanity on a white wall will blend in, making the bathroom feel crisp and clean and open, contrasting a darker vanity against a bright white wall both makes the vanity stand out and draws attention to the open space around it. The effect is twofold: first, it puts a very simple vanity front and center, turning a simple vanity into a visually arresting focal point, and second it makes the bathroom feel larger by making the vanity look like it's floating in ample empty space.
Depending on the finish used, wall mounted bathroom vanities can be very modern or much more casual and contemporary. Modern glossy white, glossy black, and "espresso" brown are among the most common options, but wood finishes are steadily gaining in popularity. Wood toned wall mounted vanities have a much warmer, more contemporary feel than their high-gloss brethren, making them a perfect fit for a more casual small bathroom.
For more information about using a wall mounted vanity in a small bathroom, check out the full article here.
HomeThangs.com is not only a home improvement superstore, it also provides expert design tips and a comprehensive shopping guide, taking the ideas from professional interior designers, and offering tips to the consumers on how to pick the products to best suit their needs.