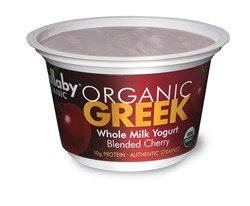 For our new line of Wallaby Organic Greek yogurt, we blend super creamy Whole Milk Greek yogurt with premium fruit. The result is hands down delicious.
Napa Valley, California (PRWEB) January 28, 2014
Wallaby Yogurt Company, a family-owned producer of organic yogurt, announces the launch of a new variety of organic Greek yogurt. After enjoying enormous success with the introduction of its Greek lowfat and nonfat yogurt lines in 2012 and 2013, respectively, Wallaby expands its Greek yogurt offerings to include a whole milk variety in 2014.
"With each round of taste tests in the development of our whole milk blended Greek products, it became clear that this was the direction we were meant to go," said Kathy Housman, National Sales Manager for Wallaby Yogurt Company. "With the Whole Milk Greek yogurts, tasters were scraping the bottom of the cups and asking how soon these could be available in stores. For this new line, we blend premium fruit into super creamy Whole Milk Greek yogurt. The result is hands down delicious."
Wallaby is excited to introduce its first blended Greek line to the US market. For this new line, Wallaby starts with its delectable mild and creamy Greek yogurt recipe, then blends in scrumptious fruit for a mouthwatering combination. The Greek yogurt market itself continues to experience enormous growth, and Wallaby's new line seeks to appeal to consumers' growing preferences for both whole milk-based and blended fruit yogurts.
Wallaby Organic Whole Milk Greek Blended Yogurt provides consumers with a great-tasting and satisfying protein-rich breakfast, snack, or dessert. All Wallaby Organic Greek yogurts are strained, which is the authentic way of producing the thick, rich texture that has made Greek yogurt so popular. Wallaby also uses its traditional slow-cooking method to create the delightful creaminess and delicate flavor of its Greek yogurt, making it worthy of the Wallaby Organic label. And like all Wallaby products, the Whole Milk Greek yogurts are made with organic milk from small, pasture-based family farms.
Wallaby Organic Whole Milk Greek Blended Yogurt is available in a variety of flavors and sizes. Both individual (5.3oz) and multi-serve (32oz) products feature plain whole milk Greek yogurt blended with a variety of flavors, producing a consistently thick, creamy, and flavorful yogurt. Flavors include Blueberry, Cherry, Raspberry, Strawberry, and Vanilla Bean, available in 5.3oz cups. Plain and Vanilla Bean is also offered in 32oz multi-serve containers. The line is now available nationwide in Whole Foods Market, with suggested retail prices of $1.99 for the 5.3oz cups and $6.99 for the 32oz size.
About Wallaby Yogurt Company
Wallaby Yogurt Company is a family-owned business that has been producing organic yogurt in Napa Valley, California since 2001. The company was born out of an adventure that began Down Under. It was during a trip to Australia that Wallaby's founders chanced across a deliciously distinctive yogurt. Convinced that Americans would love Australian-style yogurt as much as they did, they set off on a mission with one simple goal: to produce the best tasting yogurt in America. To learn more about Wallaby Yogurt Company, please visit http://www.WallabyYogurt.com.